Attention: Travel Photographers, City Explorers, Adventurers...
How To Capture Print-Worthy Travel Photography Without Expensive Gear
(Even if You're a Total Beginner)
Sale Ends & Price Increases In:
Have you ever been on a once-in-a-lifetime trip with beautiful scenery… But the photos you captured were nothing but average?
After arriving home, you might have wished you could go back and have another shot… 
It's disappointing when your photos don't reflect the beauty you witnessed… 
I know the feeling well. I used to return from amazing trips with photos I was embarrassed to share or even print off for myself. 
They were a bit dull and ordinary… I struggled to find great locations… and my composition was uninspiring. 
I didn't know how to close the gap between my vision and my actual shots.
Many of us, including myself, learn travel photography the hard way. With constant trials and errors and countless wasted opportunities. And then something clicks… 
But what if I told you that you don't have to go through all the struggles and wait years for that click?
What if a seasoned travel photography professional would share how he captures fantastic shots.
Images, that leave jaws dropped… 
All you need is a simple process (outlined on this page) and you'll be able to take great travel photos anywhere you go… 
Pictures like these…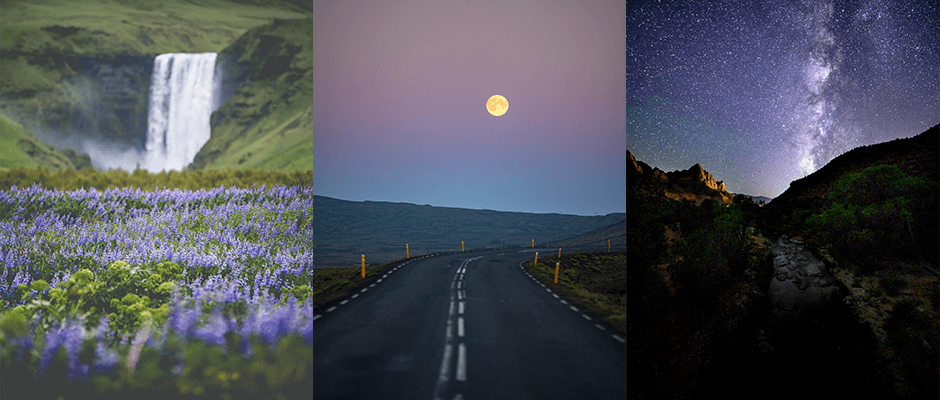 Meet Dave Williams, Your Travel Photography Coach
Dave shoots snowy mountains… fiery skies… crispy blue seas…
His style relies on using eye-catching compositions to capture breathtaking photos of his travels.
All this without using expensive gear.
I tried it myself, and it is so much fun to know that you're capturing interesting images of your adventures that most people can't.
It's no wonder that his photos have been featured by publishers like National Geographic, Forbes, and Lonely Planet.
He's also a successful workshop instructor which makes him a perfect teacher for anyone who wants to learn the ins and outs of travel photography.
So it only made sense to join forces and create this…
Introducing: "Next Stop: Travel Photography"
This 280-page ebook shows you how to capture stunning travel photography.
This includes destination and location scouting… camera settings and gear… creative styling tips and composition… making money as a travel photographer, and more…
While using the gear you already own.
All you need is our ebook and printable Challenge Cards (more on those below).
The only limit is your imagination, and with Dave's best ideas and expert techniques to choose from… you'll never be short of inspiration.
With "Next Stop: Travel Photography", you'll soon discover:
Practical and actionable tips about creating your best travel photography workflow – so you're prepared for any situation

Creative ways of choosing both your destination and the exact location to shoot from 

Go-to

camera settings

for the most common scenes you'll shoot

Composition

best practices that will help to entice your audience

Tips on how to

photograph people

(for both candid and environmental portraits)

Tried and tested post-processing instructions

Guidelines to what to do to make money with travel photography
Travel photography is fun. But it's even more fun when you're able to capture your dream images. 
We've worked with Dave to ensure the ebook is both specific and actionable.
The system is simple and FAST to learn.
There's no filler text, no outdated advice, and you don't have to buy any other products to get real value.
You can read Dave's guide in a couple of afternoons and start taking better photos right away.
Here's what he has to say about his exciting new product:
Forget About Average Shots… Say Hello to Outstanding Travel Photos
Travel photography might look easy at first glance. You're at stunning places. You just need to press the shutter, right?
Well, not really…
Anyone who's tried it knows that remarkable travel photography is not as simple as finding a good-looking location.
Because to take stunning travel photos, you need to:
Scout the location and be there at the right

 time

Compose your shots and add depth and interest
Tweak the photos to perfection in post-processing
To get enough practice through trial-and-error, you might need years…

But how much would it be worth to you if you could start capturing extraordinary photos not in years' but right on your next trip?
If there was an easy way to improve your travel photography from one day to the other… would you be interested?
Simple Guide For The Best Travel Photos You've Ever Taken
Picture this.
You have a new way to take impressive photos of your travels without investing in expensive gear.
Execution isn't a problem, because you have dozens of Challenges Cards to take inspiration from.
Within a matter of minutes, you find the places that are worth capturing on your vacation.
There's no need to worry about composition. You already know exactly how you're going to make your photo amazing.
Within a few quick snaps, you've captured a photo full of potential.
At the end of your trip, you arrive home and open Photoshop. And following the simple editing steps, your photo is mesmerizing… eye-cathing… breathtaking.
You're so impressed with the result, that you post it on social media… only to have your family beg for actual prints to hang on their walls.
All you need is the right guide to travel photography to produce stunning results like these…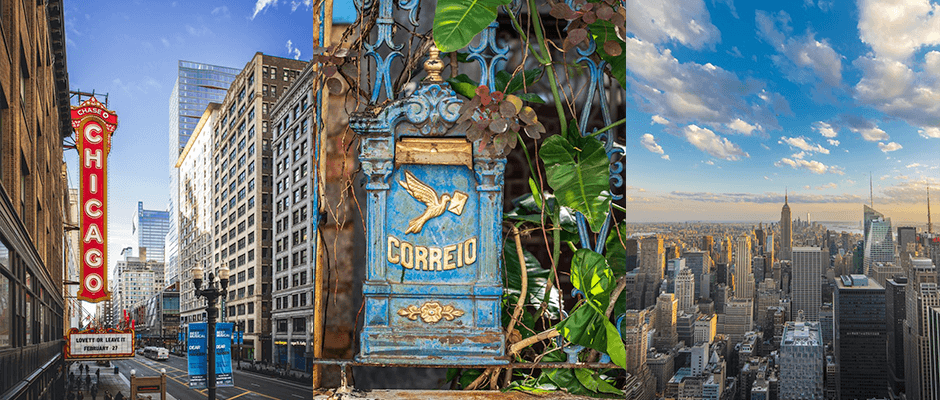 Dave's expert techniques and unique approach to travel photography have attracted so much attention worldwide that his images were purchased by the leading publishers.
With over 140,000 students, photographers love our training. But don't just take our word for it, check out what some of them have to say about our and Dave's other training…
"I have some truly incredible pictures because of what I learned from your book…"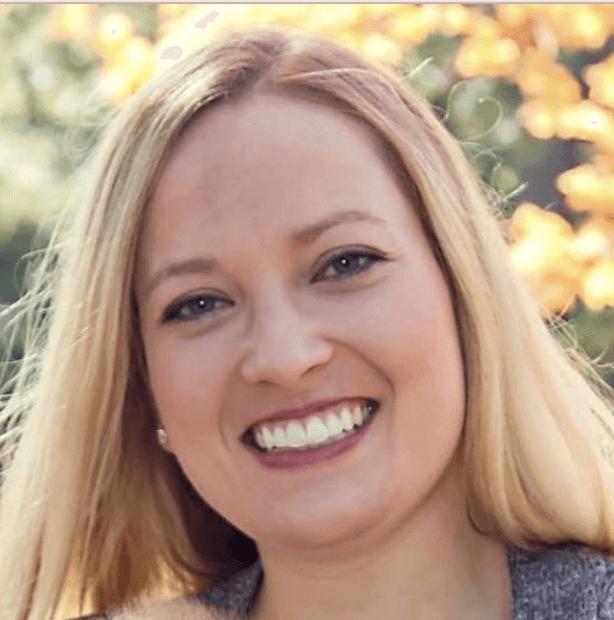 Julie Rogness
The steps were easy to follow and very inspiring! I like the variety of shots, and I am learning and practicing so many new techniques! I am excited to continue working through the rest of the photo styles- I haven't tried them all yet. If you are looking for inspiration, or want to push yourself in your journey as a photographer, this is for you! You will truly come away with photos that will really "wow" your family and friends, and a new set of skills to continue to explore in future photos!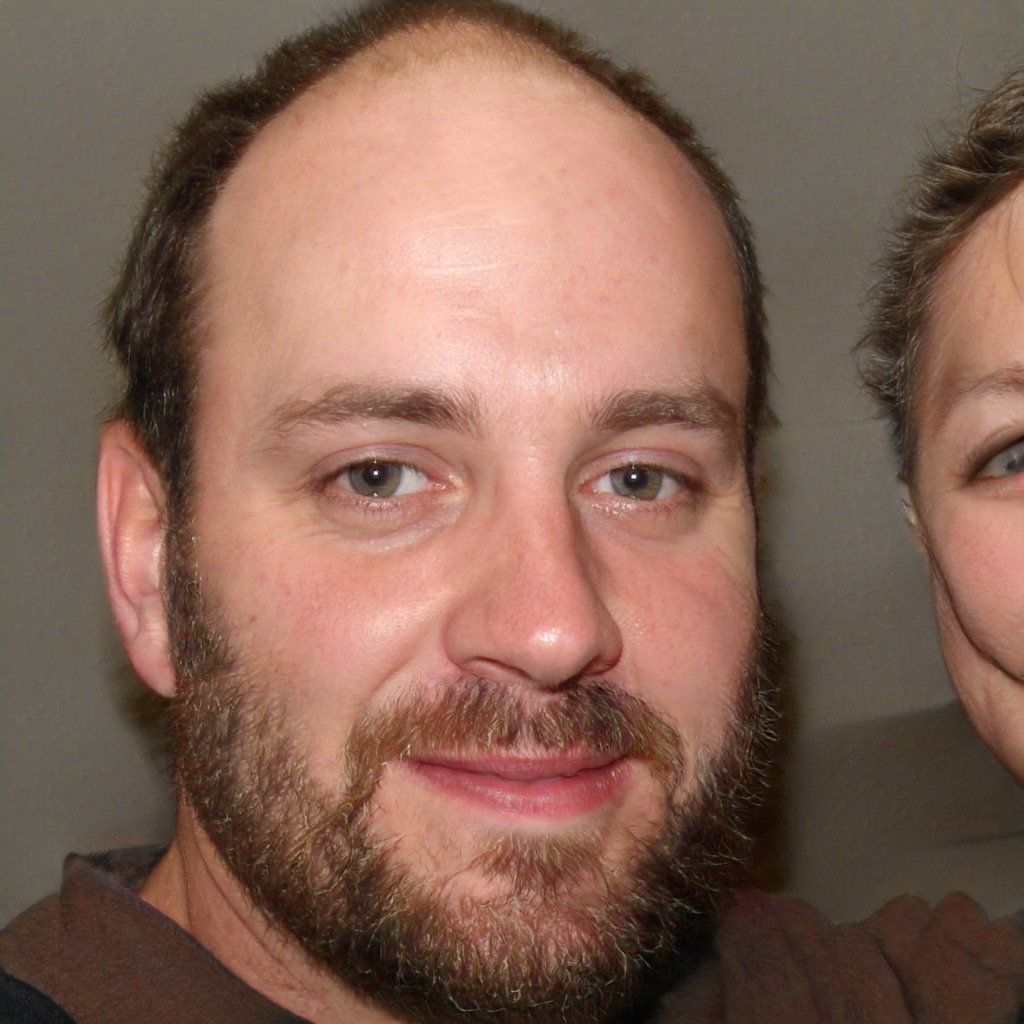 Joe Reid
This book was great. Worth more than I paid for it. Thank you. I read your book in preparation for going on a safari in Africa and reread it on the 15-hour plane ride. I have some truly incredible pictures because of what I learned from your book. Thank you again.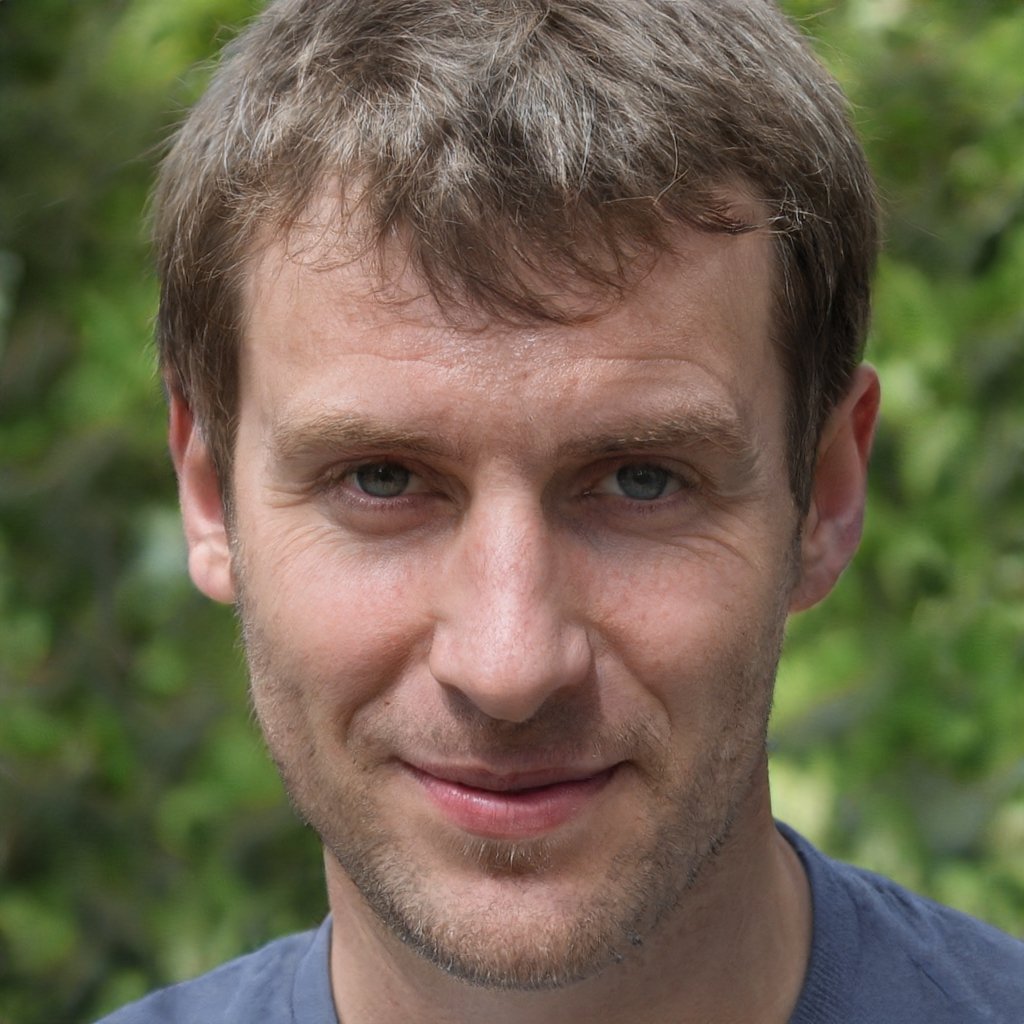 Cluny
Dave Williams is an experienced travel photographer and an excellent instructor. This book will give you all the knowledge you will need to get your own image of the Northern Lights travel images. Expertly written, concise and detailed. I not only recommend this book but encourage you to follow his blog and other writings, as well as his social media account for more inspiration, information, and advice.
Tapas Ray
You have made photography so simple. I am deeply moved by your hard work and finding out ways to make things understandable. Kudos for your effort. I find in you a true teacher and a mentor.
5 Steps to Remarkable Travel Photography (Value $497)
"Next Stop: Travel Photography" covers everything you need to have a solid foundation for stunning travel photography. If you follow our guide, your images will be more professional and more interesting
Step 1. Location, Location, Location
Nothing is more important than where you are. 
Which destination you choose… What locations you visit… and where you stand exactly when pressing the shutter button.
This requires careful consideration and meticulous planning. Because if you fail to plan you plan to fail.
Step 2. Equipment and Packing 
The balance between overpacking and underpacking isn't always obvious. The best thing you can do is consider in advance what kind of photos you'd like to capture.
Which conditions require you to have multiple lenses with you? When can you leave your drone at home? Are you gonna need a second tripod?
Pack as light as possible, and you'll thank yourself later.
Step 3. Setting the Scenes
Our ultimate aim, as travel photographers, is to make our viewer want to visit the place we photograph. 
The how is very dependent on where and what we're shooting. 
In this ebook, we cover numerous scenes and weather conditions and advise on what settings to use to complement the scenery.
Step 4. Composition and Colour
How come great photographers take stunning images even in the most average locations?
It all comes down to composition. With travel photography, we don't have control over the scene. We have to learn how to make the most out of the circumstances.
But it doesn't mean we can't get creative. Besides the well-known rule of thirds and rule of odds, there are plenty of composition techniques we can take advantage of.
Like framing our scene with surrounding plants or emphasising vibrant colors.
Step 5. Capturing Portraits
Photographing people will fill our images with energy and liveliness!
Based on your style, you could experiment with candid shots of fleeting moments… Or environmental portraits where your subject is aware of and interacts with your camera.
The book also provides you with tips on how to do it in the most respectful way possible.
+ 1 Step: Making Money with Travel Photography
Yes, it is possible… You can make money as a travel photographer. 
But having flawless photography will only take you so far… If you're looking for bigger success, your shots have to be captivating and enticing too.
In the ebook, Dave shares the best ways to do so, together with practical tips on what the best platforms are and how to stand out on the market.
Bonus #1 – 30 Challenge Cards Cheat Sheets (Value $99)
We want to make travel photography easy for you.
That's why we collected the 30 most common travel photography subjects into Challenge Cards.
They cover image inspirations, travel destinations, camera settings, composition, lighting, and variations.
The process is simple. Pick a card, copy the process, and shoot an equally breathtaking photo on your next adventure!
Bonus #2: Starting Your Travel Photography Blog (Value $99)
If you think of travel photography as a business, look no further.
Dave has collected his tried-and-tested tricks and tips on how to attract clients without using expensive ads.
In this bonus chapter, you'll read about how to set up your portfolio, use social media for your photography business, sell your images to stock photo libraries, and more…
Bonus #3: Editing Your Photos On The Go
(Value $99)
While Dave doesn't "Photoshop" his images into something they're not, he does process them.
But how do you travel continuously and make sure you post-process your images effectively?
There's no better way to say it – you edit your images on the go.
That's why we included an entire bonus chapter on how you can create print-worthy travel photos while you're waiting in transit.
Here's The Amazing Deal We've Put Together
We've created an ebook on travel photography that works for any photography enthusiast.
And to make the method as easy as possible, the ebook is accompanied by 30 Challenge Cards to make the process simple.
And although the value far exceeds $300.00, we're offering this for a very limited introductory price.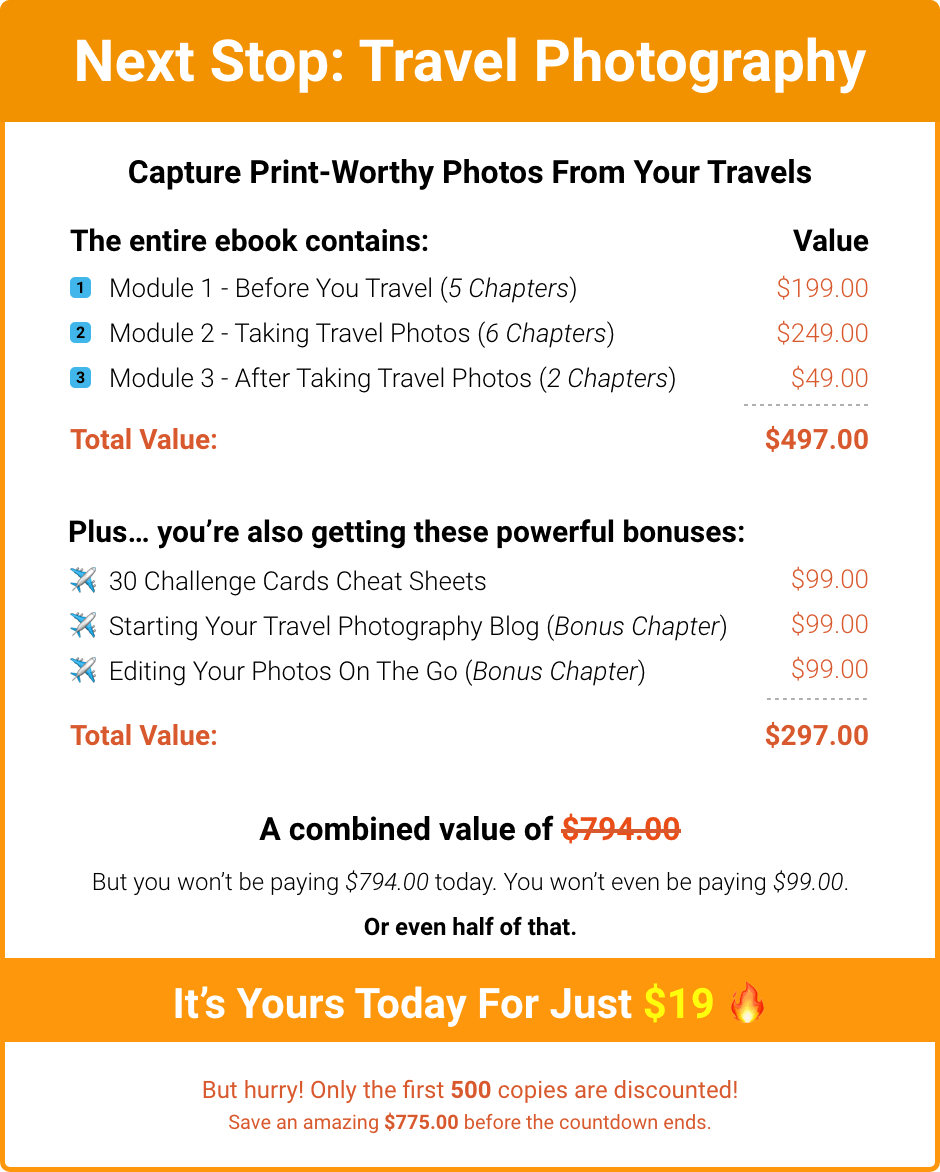 Click on the "Add To Cart" button below to get instant access to the "Next Stop: Travel Photography" eBook, 100% Risk-Free…
Get Instant Access to:
"Next Stop: Travel Photography"
Yes, I want it! I want access to this ebook right now!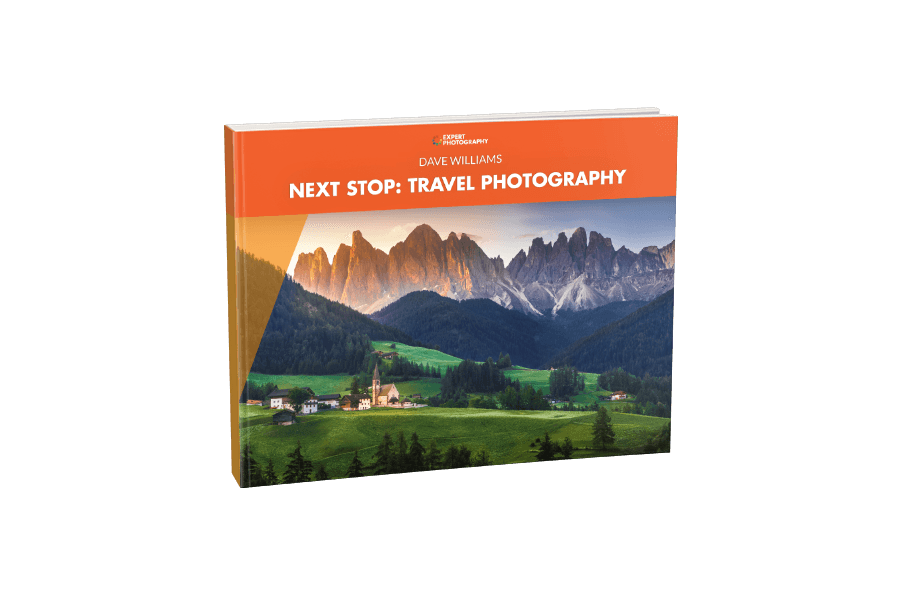 Sale Price:
Add to Cart
But There's A Catch
(Please Read This Carefully)
When we release a new product, we always discount the price for the first 500 people. But it's 500 people only.
For that reason, time is very much "Of the Essence"… I can't stress the time-sensitiveness of this offer enough.
Not only will the 500 ebooks go quickly, but at that point, the $775.00 discount will expire. And I'm taking the bonuses away too.
Why? The reduced price is to celebrate the launch of the new ebook. The value of the ebook is far higher. It doesn't make long-term sense to sell it for such a low price.
And even at this rock-bottom price, you're still entitled to…
I stand behind every product we offer. And having planned and commissioned this ebook, I'm happy to put the ExpertPhotography name on it.
So I'm putting my money where my mouth is with these two guarantees:
Guarantee #1: If you don't think "Next Stop: Travel Photography" is the best $19 you've spent on your travel photography… send me an email. I'll provide you with a full refund.
Guarantee #2: If you DO what's recommended, and your results aren't great, I'll refund double your money. All I ask is that you give it an honest effort. How's that for fair?
And these guarantees are good for 90 days after purchase!
Get Instant Access to:
"Next Stop: Travel Photography"
Yes, I want it! I want access to this ebook right now!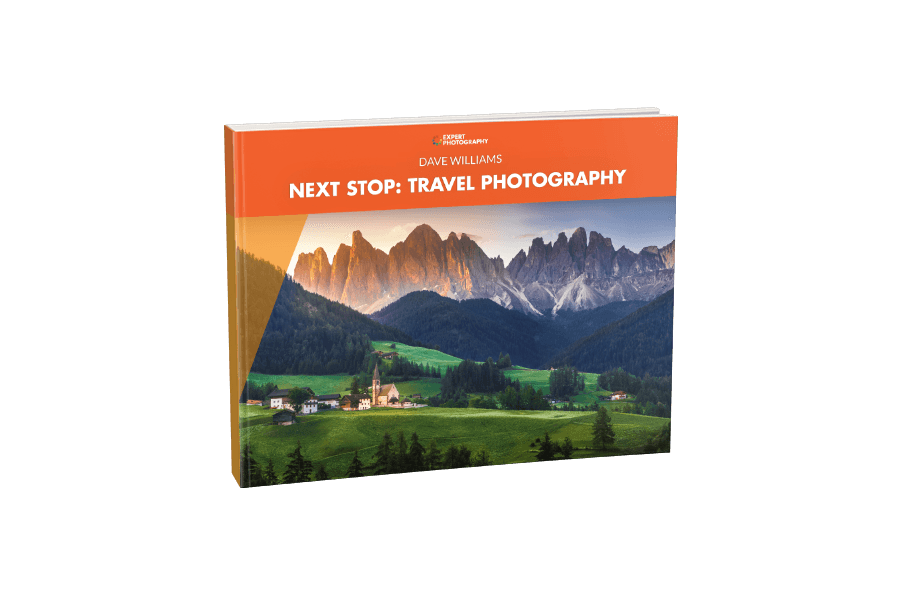 Sale Price:
Add to Cart
Dave Is The Industry Leader… Don't Miss Out!
Dave has been there, done that… And now, he offered to pass on his knowledge to fellow ambitious photographers.
He wrote this ebook under my brief:
"Show us how to take breathtaking travel photos with tips that any photography enthusiast could follow."
If you follow his advice, you can avoid missing out on print-worthy photos of your adventures. And start taking photos so mesmerizing, you can send them as postcards to your friends and family.
Maybe you think that at this time it doesn't make any sense for you to invest in your travel photography. You don't have any holiday plans or trips booked. 
If you choose this kind of procrastination, chances are you'll always find yourself put off improving your travel photography. 
So it's decision time: You can either postpone advancing your travel photography skills and learn it the hard way… or decide today that you're going to take a step towards better travel photography.
This simple $19 ebook is the only thing standing between you and the stunning photos you see throughout this page.
Dave's methods have worked for other people like you, and it's 200% guaranteed so you have nothing to lose.
It's a no-brainer.
Click the orange Add-To-Cart button below to get started now…
Get Instant Access to:
"Next Stop: Travel Photography"
Yes, I want it! I want access to this ebook right now!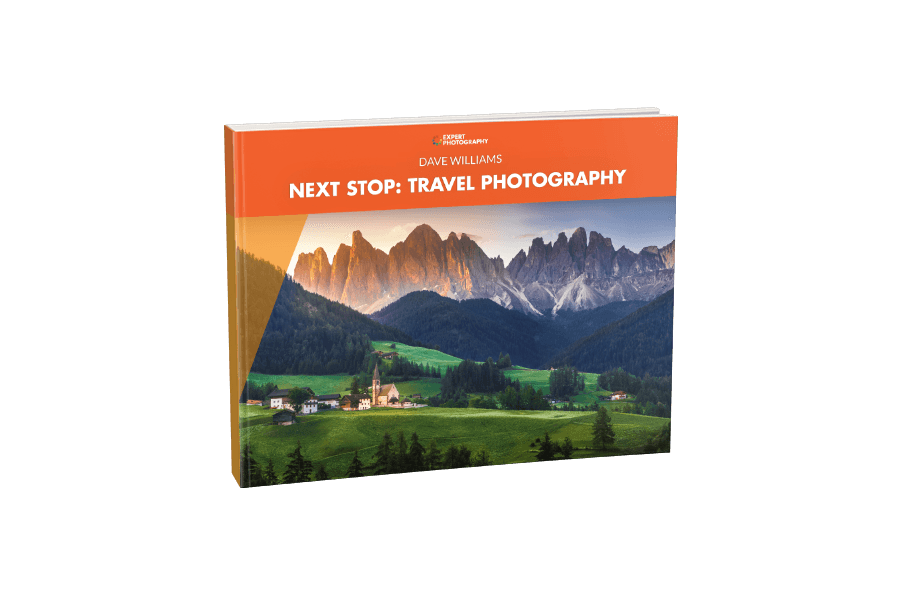 Sale Price:
Add to Cart
Yours Truly,
Josh Dunlop
Founder, Expert Photography
P.S. – You're getting everything you need to get started with travel photography, AND you're getting the 30 Challenge Card Cheat Sheets, The Travel Blogging Chapter, and the Editing-On-The-Go Chapter bonuses for FREE. But remember – 500 is the magic number.
Get Instant Access to:
"Next Stop: Travel Photography"
Yes, I want it! I want access to this ebook right now!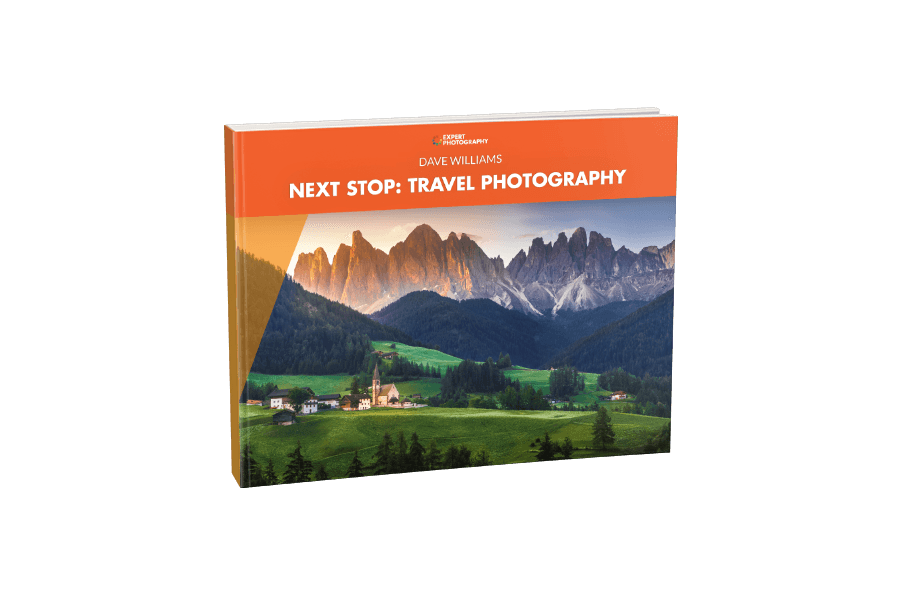 Sale Price:
Add to Cart
FAQ's
Who is ExpertPhotography?
ExpertPhotography was founded in 2011 by Joshua Dunlop. Since then ExpertPhotography has grown into the world's largest photography education website in the world with a variety of online courses, ebooks, cheat sheets, presets, and more. Everything we do here is to make the process of learning photography easier, so you can experience the same joy we do. We've taught photography to 140,000+ very happy and satisfied students over the past 11 years.
Photography has changed our lives, and I hope we can help it to change yours too.
How long is the ebook?
Only 280 pages, so you can read it comfortably during a couple of afternoons. And if you immediately want to get started, just pick a Challenge Card and start shooting!
What additional gear do I need?
All you need is your camera (or a phone with a good camera). Dave shoots mainly with a Nikon Z6 camera and 24-70mm lens. But an entry-level DSLR and kit lens would work too. You don't even need a tripod.
How much experience with photography do I need to have to get started?
It's helpful to understand how exposure works, but aside from that, everything you need to know is covered in the ebook.
How much post-processing do I need to do?
Dave does rely on Lightroom to transform the look and feel of his images. But it doesn't mean he completely transforms them into something they are not. He changes the exposure, the color tones, the white balance, or the cropping of his images… but his exact process is detailed in this ebook.
Will you send me a physical copy of this ebook to my address?
No, this is a downloadable file only. That means we can keep it up to date and offer immediate delivery.
What's your refund policy?
You can get a full refund within 90 days of your purchase – no questions asked.