Attention: Playful Photographers, Fine Art Lovers, and Still-Life Enthusiasts...
Create Magical Images with Flowers, Tea Cups, Empty Bottles... and More Everyday Items
(30 Print-Worthy Photos You Can Capture at Home)
My friend, Amy, recently started a 365 photo project – taking photos every day, for a year.
At first, her images were quite interesting and provided an insight into her life.
But as a young mother, working from home, and dealing with chores…
Her time was limited and she hardly ever had the chance to leave the house to shoot.
(And there are only so many photos you can take of your cats, garden, and family!)
Disappointed, but not wanting to give up, she came to me for advice…
I told her that if she wants to take interesting photos from home, she has to get creative!
And lucky for her, I knew just the person to help.
My friend, Ashraful, captures creative compositions with everyday objects… all from the comfort of his home.
He was kind enough to help. But to be honest, I was unsure if Amy would be able to keep up – she was only a beginner at the time.
But WOW… a week later her photos left me speechless and spell-bound.
The images were so wonderful, mesmerizing, and compelling… I knew I needed more.
Meet Ashraful Arefin, A Pioneer of Magical Still-Life Photography
Ashraful captures zero-gravity tea parties… colorful flowers flowing from a cup… violins dancing in the forest…
His style relies on creating unique compositions to tell magical stories about mundane objects.
All from the comfort of his home.
I tried it myself, and it is one of the most magical experiences I've ever had with photography.
It's no wonder his unique style has attracted over 120,000 followers online and over 100 students to his private workshops.
He's pioneered a unique style of photography that has inspired thousands of photographers.
He's the Harry Potter of magical still life photography, so it only made sense to join forces and create this…
Introducing: "The Magical Photography Spellbook"
This 267-page eBook shows you how to capture 30 magical still-life photos that most people don't know how to shoot.
This includes fire, splashes, levitation, freezing motion, and more…
Without investing in complicated lighting and equipment, from the comfort of your home.
All you need is our eBook and printable "Spell Cards" (more on those below).
The only limit is your imagination, and with 30 of Ashraful's best ideas to choose from… you'll never be short of inspiration.
With "The Magical Photography Spellbook", you'll soon discover:
Detailed instructions to take magical photos in any season or weather
Fun ways to take photos from home, with basic gear and simple setups
Interesting ways to add character and mood to ordinary objects
How to use levitation to create cool and unusual images
The best way to use color theory for vivid and vibrant shots
Step-by-step guide for editing your photos to perfection
The case studies average 4 pages in length, with dozens of photos to walk you through every step.
You don't have to read the book all at once, or even in order.
Pick the image you want to create, read through the tutorial, print off the "Spell Cards", and start shooting!
Here's what Ashraful has to say about his exciting new product:
30 Printable "Spell Cards" for Enchanting Photography
We wanted to make the process of capturing these photos as easy as possible.
So Ashraful worked with our design team to create case studies and cheat sheets for each image.
The process is simple:
Read through the detailed instructions in the eBook
Print the single page "Spell Card" cheat sheet
Collect the accessories for your magical experiment
Follow the simple tips laid out on the sheet
Compose and shoot!
The "Spell Cards" detail how to create each image. This includes location, composition, and lighting.
Whether you're a student wizard or an almighty sorcerer… these photography "Spell Cards" make the process easy.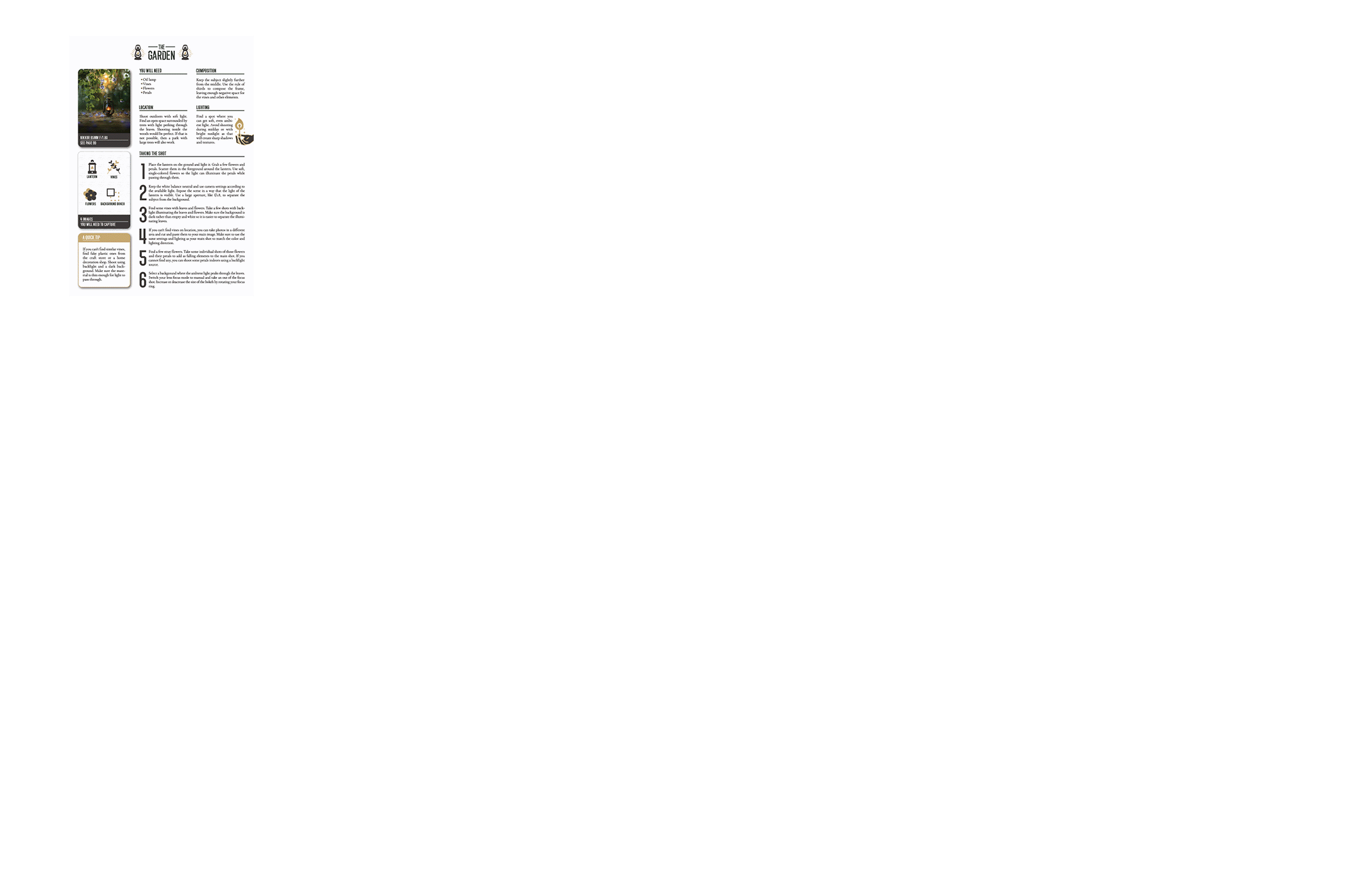 Forget About Complicated Setups and Long Hours of Post-Processing
It's a common misconception that taking images like Ashraful's is time-consuming and requires lots of props, stands, and editing.
The truth is, outside of a few basic accessories additional tools are rarely needed.
And you won't spend more than about 15 minutes in Photoshop. 

Ashraful focuses on composition and color theory when setting up the shot. He uses ordinary objects and natural elements to make enchanted scenes like these: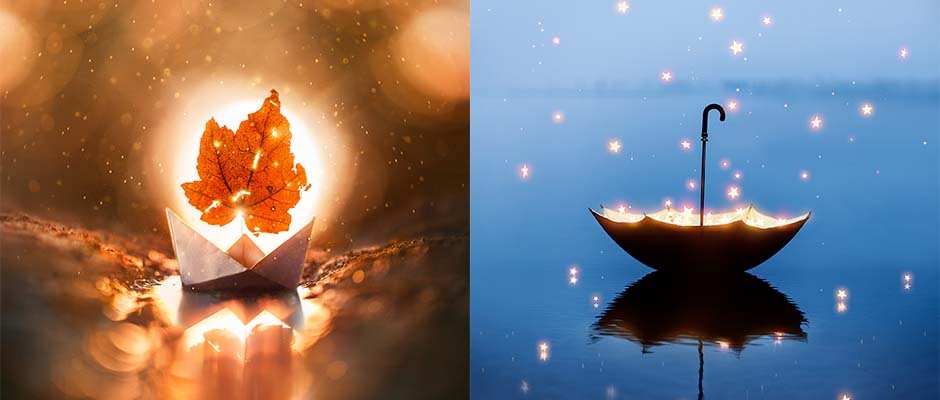 No matter the time, place, or weather… you can always find a way to incorporate magic in your images.
If you can follow simple instructions, capturing great results is as easy as clicking a button.
30 Magical Case Studies For The Most Captivating Photos of Your Life
Picture this.
You have a new way to take impressive photos without leaving your home.
Ideation isn't a problem, because you have dozens of spell cards to take inspiration from.
You place your camera on a tripod, gather some props and accessories.
There's no need to worry about composition. You already know exactly how you're going to make your photo amazing.
Time flies by as you arrange your scene and experiment with props.
Within minutes, you have captured your own unique image that is truly magical.
And after some further experimentation, your photos are imaginative… extraordinary… and enchanting…
The images are so exciting and fun to shoot, you won't stop shooting until your batteries are dead.
All you need is some simple setups with basic gear to produce stunning results like these…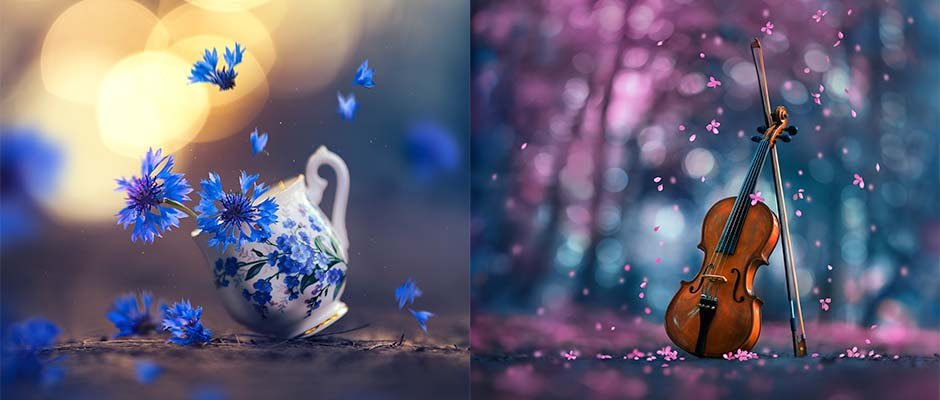 Ashraful is no stranger to teaching his style of photography. His tutorials have produced hundreds of happy students with stunning photos. Here's a few of them…
"…I was impressed from the first moment…"
Luba Grams
I had been following Ashraful's journey in cinematography for many years and was always inspired by his transcendent creative works. It was a true gift that he shared his creative method through his photoshop and video processing in his tutorial. I immediately tried the light and movement techniques in photoshop, and through his wonderful clear step-by-step instruction was able to accomplish things I have never before with moving objects. His kindness, guidance, and willingness to share his magic are so rare in the art world.
@Pastryandtravel
I was so happy when I found the Cinemagraph course made by Ashraful! I have wanted to test this method for a long time. I took the 3 hours course and watch it in one day. I loved it. The explanations are very clean and I really liked the fact that Ashraful does the demonstrations live. I have learned a lot during this course and now I have a better comprehension of photoshop. I recommend this course for all the creative people who want to improve their Cinemagraph. I can't wait for another course!
Konstantinos Eleftheriadis
I had the opportunity to attend one of his classes. I was impressed from the first moment, the way he composes a frame, the colors he uses, and of course the editing in Photoshop and Premiere Pro. It has great contagiousness and is very detailed in the description of its treatment.
He h
as
the gift of stimulating my imagination
and approaching my subjects from a different perspective
. Thank you for all!
It is my honor to have met you.
5 Chapters for 30 Magical Still-Life Photos (Value $594)
1. Lights of Spring – 7 Projects
Ashraful loves to use flowers to add spring colors to his images.
And by combining flowers with everyday objects, he's able to create magical scenes with floral themes.
This section will show you how to capture everything from flowers flowing from a cup… to a violin dancing in the forest…
2. Autumn Colors – 6 Projects
As the leaves change color, your scenes will evoke new feelings of warmth and comfort.
With enchanting forests, dancing leaves, and steaming tea… you can create the coziest photos of your life.
These six projects will walk you through Ashraful's favorite fall photos.
3. Rainy Days and Snowy Moments – 6 Projects
When the temperature drops and chilly weather settles in, most of us prefer to stay indoors.
But Ashraful shows us that you can find beauty everywhere: from raindrops falling down fairy lights… to a puddle on the street.
After seeing these images you'll be longing for rainy days.
4. Evening Lights and Water – 6 Projects
Rich blues add a feeling of mystery and dreaminess to your photos.
From stars escaping on the sea… to a red rose shattering its prison…
These projects will show you how to use a single image to tell an engaging story that's rich in intrigue.
5. Enchanted Objects – 5 Projects
What's magic without levitation? Inspired by Alice in Wonderland… and the world of Harry Potter… this chapter will take you to a magically floating universe.
It's where storms brew in a teacup, candles float in the air, and cards come to life during an afternoon tea party.
If you think that you need to be a wizard to create these images, think again. Ashraful will take you through the simple steps of achieving this photo-magic in no time.
New Bonus: The Magic of Cinemagraphs (Value $99)
We don't call Ashraful the Harry Potter of magical still-life photography for nothing…
He is able to make his captivating images come to life in a magical way: by creating cinemagraphs.
They are still photos where a small part of the image is moving. Just like an enchanted painting from Hogwarts.
Ashraful broke down the secrets to this magic spell in an extra chapter and included two short video tutorials too.
Grab this limited-time bonus now before it's gone!
Bonus #1: 3 Original PSD Files for Spell Practices (Value $99)
While Ashraful's images don't require long hours of editing, he does process them.
He makes the colors more vibrant… and he uses Photoshop to remove props used for staging the scene.
This is all outlined in the ebook, but it's helpful to practice his techniques on his photos.
Ashraful was kind enough to include the original PSD files of 3 of his most popular images:
The Garden, Winter Spirit, and Tale of the Waves and Wind.
Bonus #2: The Magical Circle of Inspiration (Value $49)
Would you like to access Ashraful's unlimited source of creative inspiration?
It's actually easier than you may think – we developed this simple game that challenges you to come up with your own unique ideas.
The idea is simple: let the circle decide.
Swing a necklace of your choice four times, and with each swing, it will land on a new element to include in your photo.
Colors… props… elements… seasons…
With over 1,500 possible combinations, you'll never run out of magical inspiration.
Here's The Amazing Deal We've Put Together
We've created an eBook on creative still-life photography that works for any photography enthusiast.
And to make the method as easy as possible, the eBook contains projects that can be achieved in the comfort of your home.
And although the value far exceeds $499.00, we're offering this for a very limited introductory price.
Click on the "Add To Cart" button below to get instant access, 100% Risk-Free…
Get Instant Access to:
"The Magical Photography Spellbook"
Yes, I want it! I want access to this ebook right now!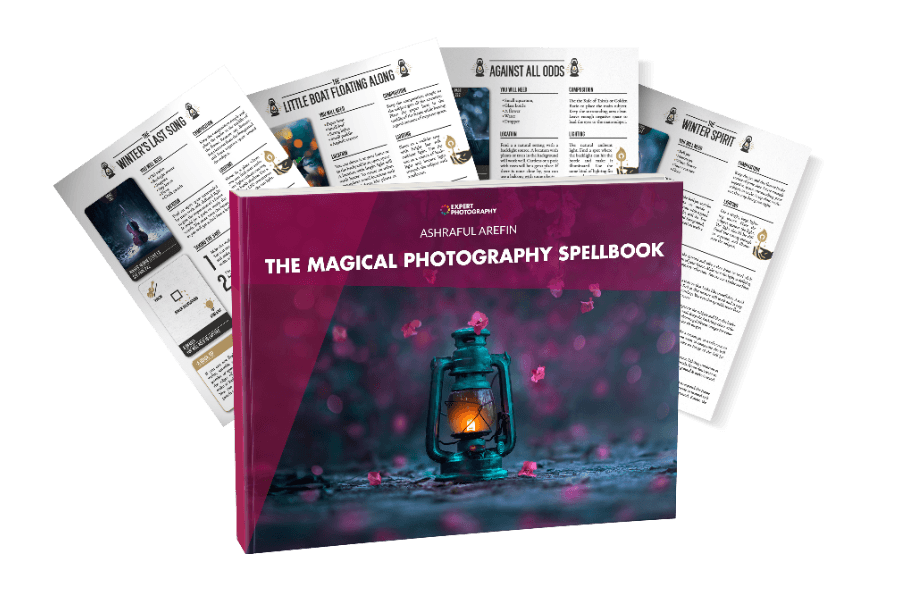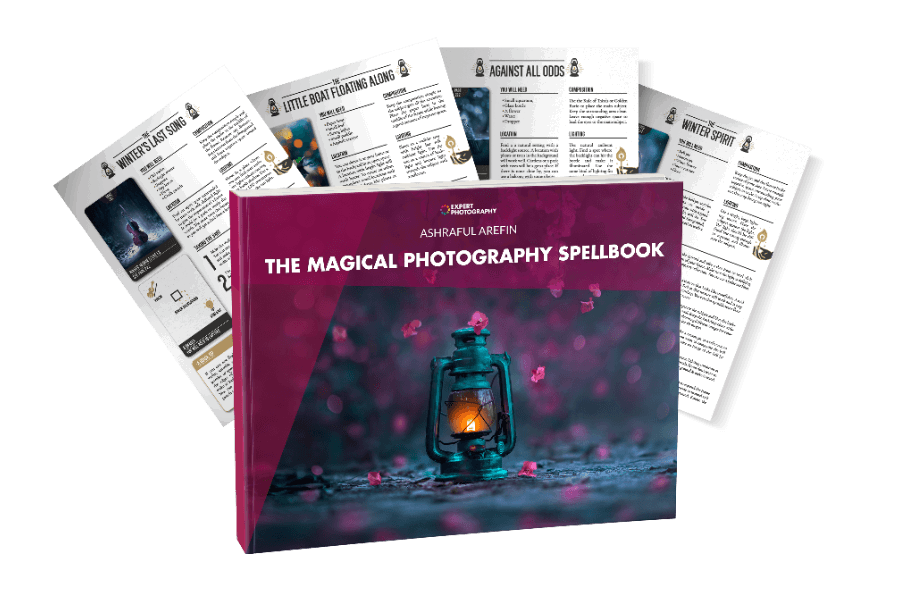 Launch Price:
Add to Cart
But There's A Catch (Please Read This Carefully)
When we release a new product, we always discount the price for the first 500 people. But it's 500 people only.
For that reason, time is very much "Of the Essence"… I can't stress the time-sensitiveness of this offer enough.
Not only will the 500 eBooks go quickly, but at that point, the $901 discount will expire. And I'm taking the bonuses away too.
Why? The reduced price is to celebrate the launch of the new eBook. The value of the eBook is far higher. It doesn't make long-term sense to sell it for such a low price.
And even at this rock-bottom price, you're still entitled to…
I stand behind every product we offer. And having planned and commissioned this eBook, I'm happy to put the ExpertPhotography name on it.
So I'm putting my money where my mouth is with these two guarantees:
Guarantee #1: If you don't think The Magical Photography Spellbook is the best $39 you've spent on your creative photography… send me an email. I'll provide you with a full refund.
Guarantee #2: If you DO what's recommended, and your results aren't great, I'll refund double your money. All I ask is that you give it an honest effort. How's that for fair?
And these guarantees are good for 90 days after purchase!
Get Instant Access to:
"The Magical Photography Spellbook"
Yes, I want it! I want access to this ebook right now!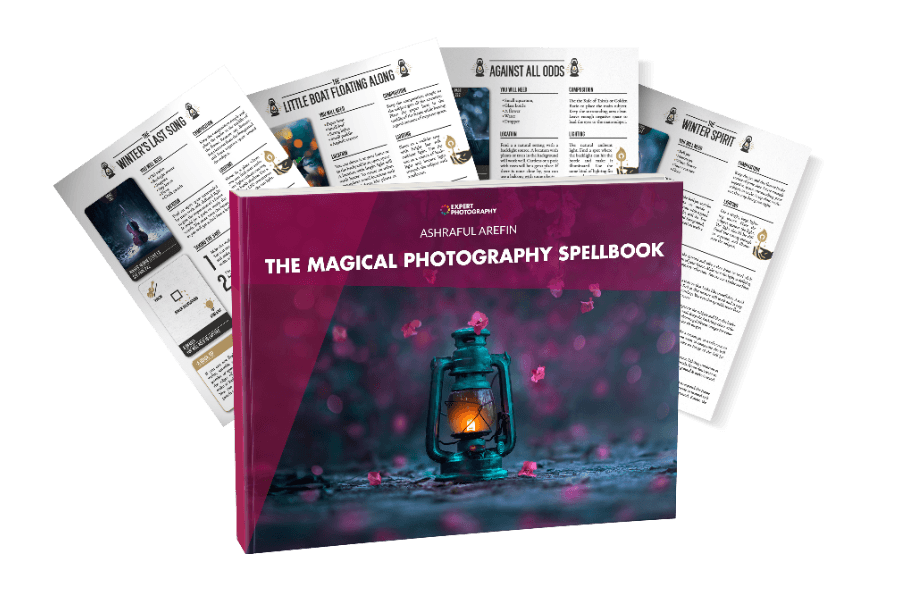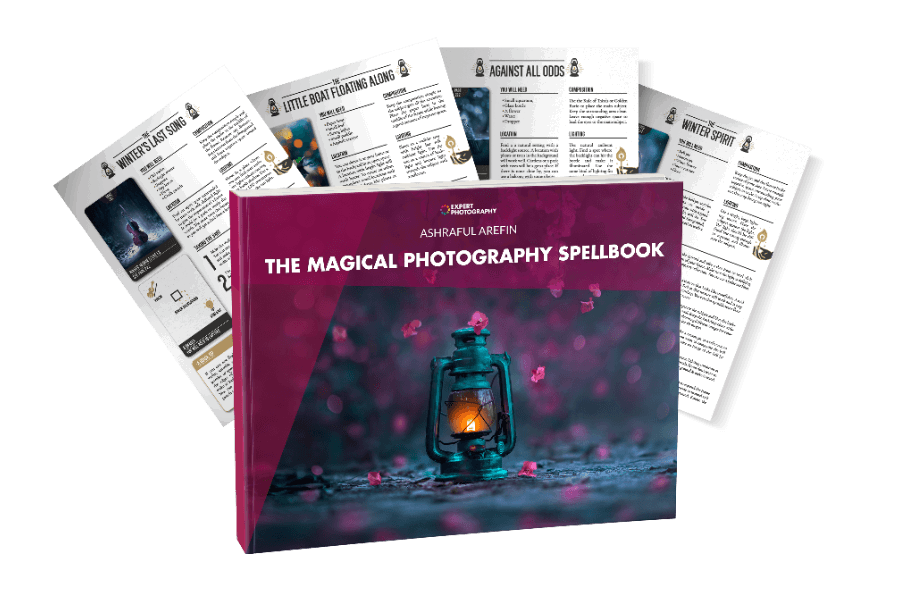 Launch Price:
Add to Cart
This is The Forefront of Magical Still-Life Photography… Don't Miss Out!
Ashraful wrote this eBook under my brief:
"Show us how to capture magical images with tips that any photography enthusiast could follow."
If you follow his advice, you can avoid mistakes, burning out, and mediocre results… and you'll take mesmerizing photos that most people can't.
So it's decision time: You can either continue taking photos like you always did… Or you can take Ashraful's advice and rapidly improve the photos and stand out in a crowded market of creative photographers.
This simple $39 eBook is the only thing standing between you and the stunning photos you see throughout this page.
Ashraful's methods have worked for other people like you, and it's 200% guaranteed so you have nothing to lose.
It's a no-brainer.
Click the orange Add-To-Cart button below to get started now…
Get Instant Access to:
"The Magical Photography Spellbook"
Yes, I want it! I want access to this ebook right now!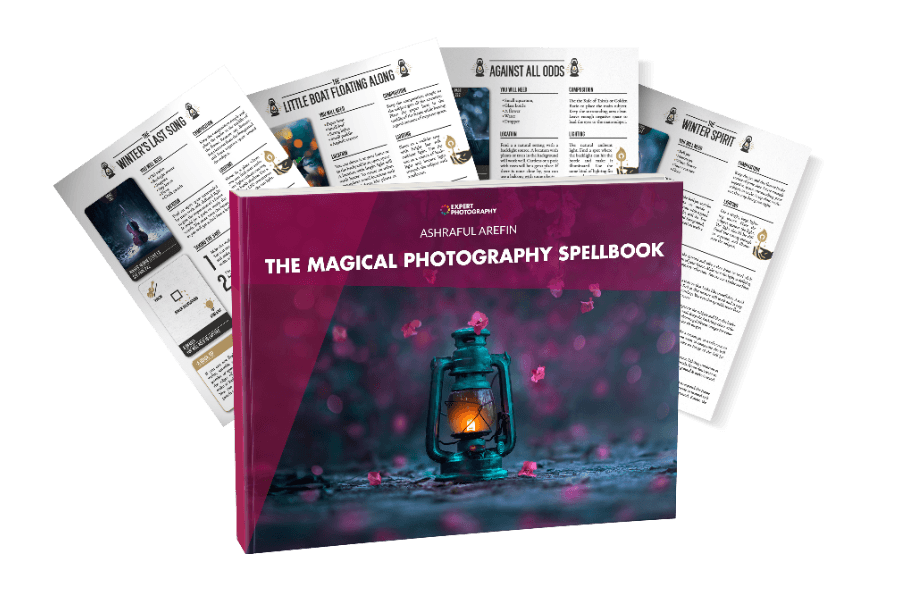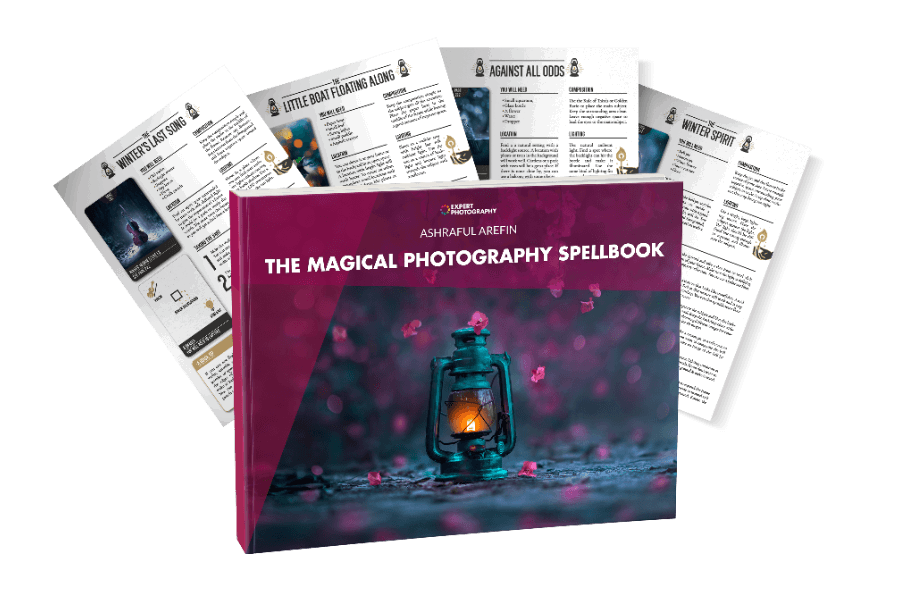 Launch Price:
Add to Cart
Yours Truly,
Josh Dunlop
Founder, Expert Photography
P.S. – You're getting everything you need to get started with magical still-life photography. AND you're getting The Magic of Cinemagraphs, The 3 Original PSD Files for Spell Practices, AND The Magical Circle of Inspiration for FREE. But remember – 500 is the magic number.
Get Instant Access to:
"The Magical Photography Spellbook"
Yes, I want it! I want access to this ebook right now!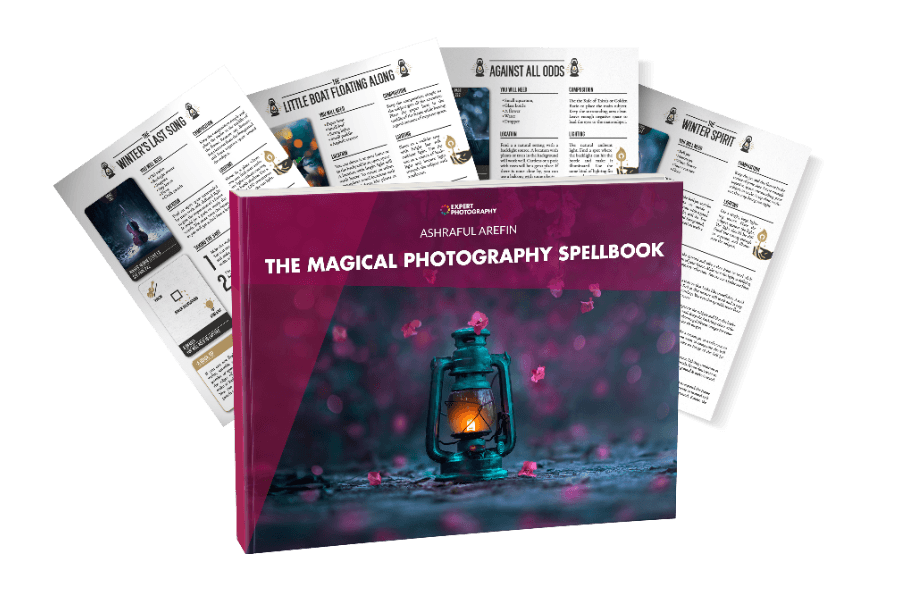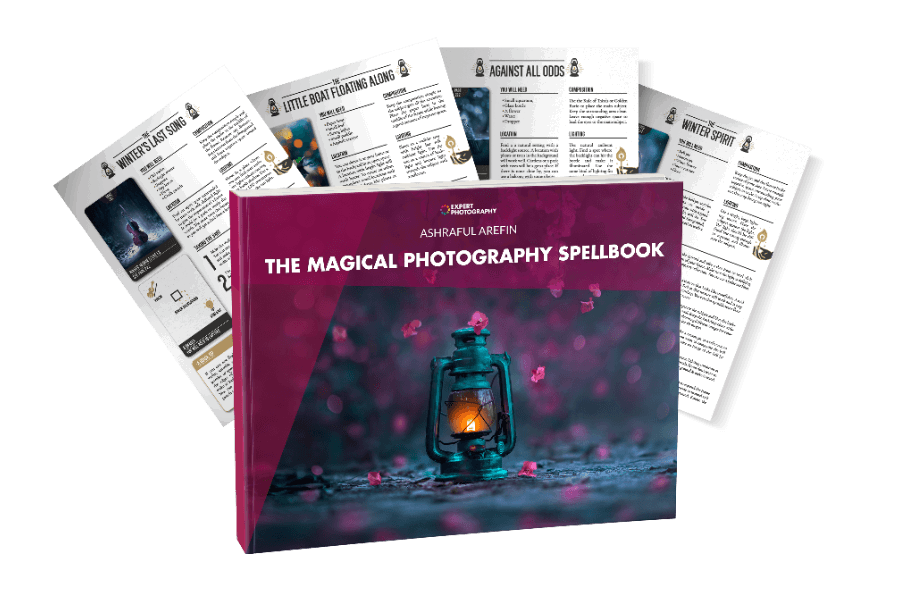 Launch Price:
Add to Cart
FAQ's
How long is the ebook?
267 pages. But you don't need to read it all at once, or even in order. Simply pick an image that interests you, and read the Spell Cards to get started.
How long does it take to capture each image?
Each image takes between 15 minutes to an hour to capture, and you can continue to experiment for hours with the same concept if you wish.
What additional gear do I need?
All you need is your camera (or a phone with a good camera). Ashraful shoots mainly with a Nikon D850 and 2 lenses: 105 mm and 85 mm. But an entry-level DSLR and kit lens would work too. You also need a tripod.
How much experience with photography do I need to have to get started?
It's helpful to understand how exposure works, but aside from that, everything you need to know is covered in the ebook.
How much post-processing do I need to do?
Ashraful does rely on Photoshop to transform the look and feel of his images, but he walks you through exactly what you need to do to achieve the same results.
Will you send me a physical copy of this ebook to my address?
No, this is a downloadable file only. That means we can keep it up to date and offer immediate delivery.
What's your refund policy?
You can get a full refund within 90 days of your purchase – no questions asked.