Attention: Parents, Grandparents, and Family Photographers...
Capture Joyful Memories and Charming Portraits of Your Children at Home
(30 Print-Worthy Photos You'll Cherish Forever)
Three years ago, my close friend Ashley gave birth to a beautiful baby girl, named Emily.
And she did what many new moms do: she bought a camera to capture her daughter growing up.
The photos were OK at first… but when Emily learned to walk (and run!), her photos started to become soft and blurry.
Emily was growing up fast. And Ashley was missing the chance to capture once-in-a-lifetime milestones every week.
Frustrated, and with few options, she booked a local studio to take 'proper' family photos.
Hundreds of dollars later… the photos they got back were sterile and lacking personality.
And what's worse, she knew her in-laws (who hadn't seen their granddaughter in over a year) would feel the same.
But everything changed one evening when she was browsing Facebook for a new photographer.
She happened upon Iwona Podlasińska, a world-renowned child photographer who was giving a workshop nearby.
Ashley had some basic experience with a camera and decided to give it a go… and… WOW!
The photos she was able to capture blew me away…
Meet Iwona Podlasińska, Internationally-Acclaimed Child Photographer
Iwona captures playful childhood adventures… cozy and nostalgic scenes… and treasured memories of bonding siblings.
Her style relies on simple setups for stylized scenes to capture candid images.
Then she uses post-processing to enhance her images and make them pop!
It's no wonder Iwona has 200,000+ followers. And has hosted fully-booked workshops in 13 countries across 4 continents.
She even had the most viewed photo of the year on Flickr in 2017!
But her techniques have always been the guarded secrets of her $700.00 workshops… until now!
Introducing: "Dreamy Childhood Portraits"
This 352-page ebook shows you how to capture 30 child portraits that are adorable and timeless.
This includes styling and composition… planning and props… camera settings and post-processing…
…while using a basic camera (or even a phone), from the comfort of your home.
All you need is our ebook and the 30 printable 'Scrapbook Notes' (more on those below).
The only limit is your imagination. And with 30 of Iwona's best ideas to choose from… you'll never be short of inspiration.
With "Dreamy Childhood Portraits", you'll soon discover:
An unlimited source of creative ideas for capturing charming photos of children
Beautiful scenes that you can recreate at home, with basic gear
Simple ways to use natural light for well-lit and flattering portraits
How to craft stories with your photos that reflect your child's personality
The best approaches and poses for different age groups
Step-by-step guide for editing your photos to perfection
The case studies average 8 pages in length, with dozens of photos to walk you through every step.
You don't have to read the book all at once, or even in order.
Pick the image you want to create, read through the tutorial, print off the 'Scrapbook Notes', and start shooting!
Here's what Iwona has to say about her exciting new product:
30 Printable 'Scrapbook Notes' for Child Photography
We wanted to make the process of capturing these photos as easy as possible.
So Iwona worked with us to create case studies and cheat sheets for her best images.
The process is simple:
Read through the detailed instructions in the ebook
Print the single page 'Scrapbook Note'
Find a scene and select the props
Light the scene using the simple tips laid out on the sheet
Compose and shoot!
The 'Scrapbook Notes' detail how to create each image. This includes the location, settings, posing, composition, and lighting.
Whether you're a parent or a child photographer… these 'Scrapbook Notes' make the process easy.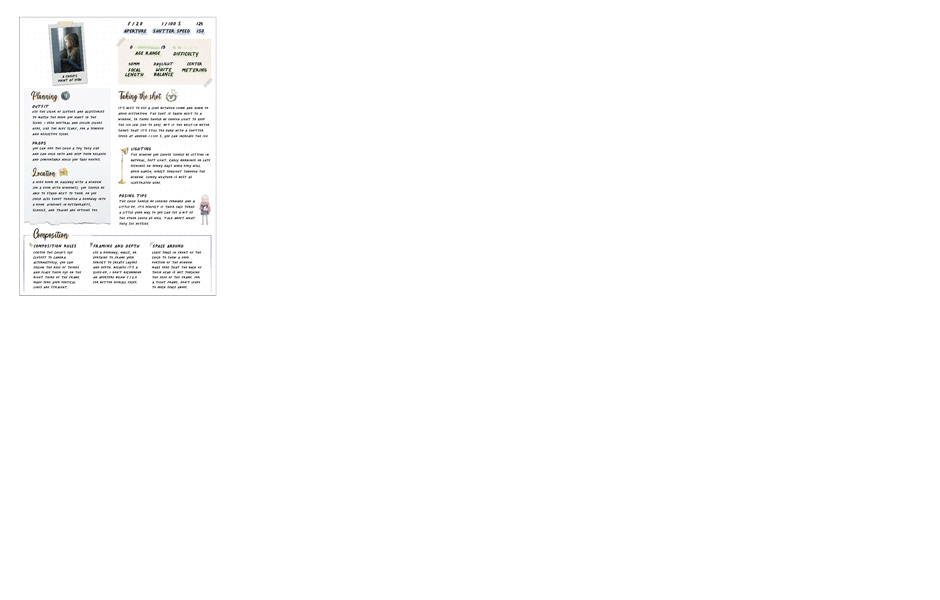 Forget About Blurry Shots… Say Hello to Print-Worthy Portraits
My own childhood photo albums have two types of photos:
Boring studio photos that don't evoke any happy memories
Cute, but poorly-shot snaps of birthday parties and vacations
But you will occasionally find an adorable photo that captured who I was, what I was doing, and how I was feeling.
Usually taken by someone other than my mother (Sorry, Mum!)…
You see, my mum always thought that she needed to book a sterile studio… find a fancy location… or hire an expensive photographer to capture these great images.
But the truth is you don't need any of those things…
If you focus on cool ideas and interesting styling, you can easily capture frame-worthy shots!
It all comes down to the techniques you use, and that's easy when you have the right process…
Charming and Unique Photos of Your Children with Simple Setups
Picture this.
You have a new way to take impressive photos without expensive gear or even leaving your home.
Coming up with new ideas isn't a problem. You have dozens of 'Scrapbook Notes' to take inspiration from.
You gather some props and choose a window to shoot in front of.
There's no need to worry about composition. You already know exactly how you're going to make your photo amazing.
Time flies by as you set up your scene and adjust the light.
Then you call your child in to join you. And within minutes, you have captured your own unique image that is artistic and timeless.
Before your child loses patience, you've captured images that are beautiful and nostalgic.
The images are so exciting and fun to shoot, you start planning your next session immediately.
All you need is a simple process and basic gear to produce stunning results like these…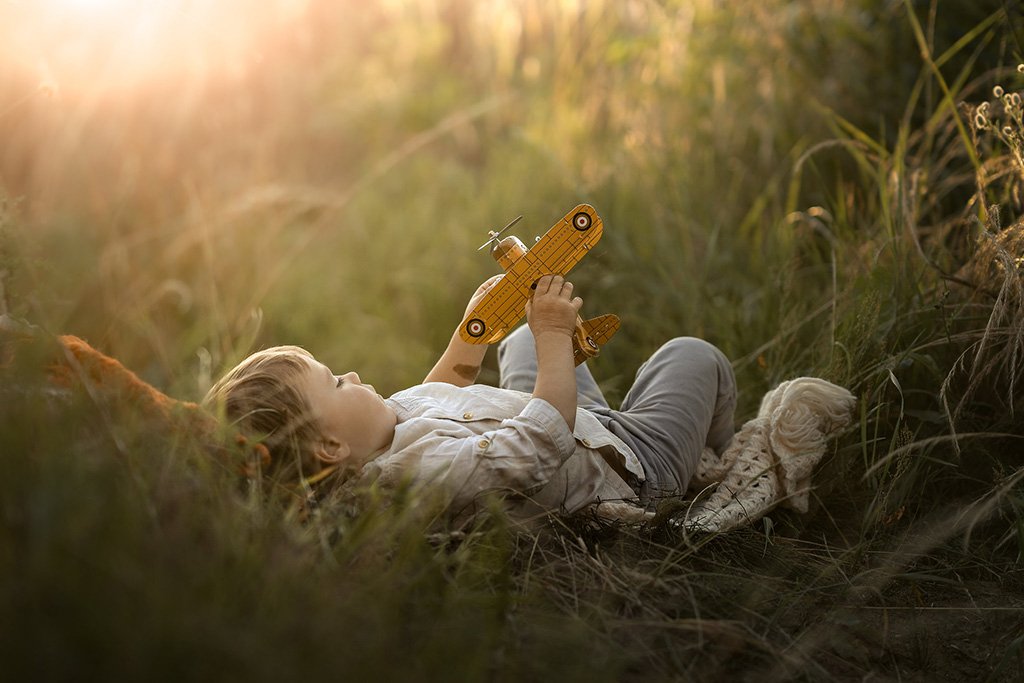 Iwona is no stranger to teaching her style of photography. Her workshops have produced hundreds of happy students with stunning photos. Here's a few of them…
"…the most interesting, eye-opening, and honest workshop…"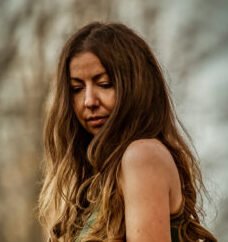 Marie-Hélène Gravel
I had the amazing chance to assist in Iwona's workshop in Canada and it was a fabulous and unique experience. She is authentic, generous, and such a great teacher! I now have a better comprehension of natural lighting and I have learned a lot about editing in Lightroom.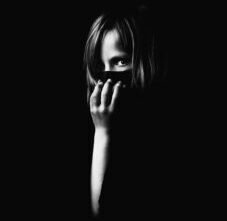 Sabrina Coopman
This was for sure the most interesting, eye-opening, and honest workshop I have ever got to follow. Worth every penny and more ❤️Lightroom is almost all she works with for retouching. All is done in finding the magic of the light and creating the right environment and settings in-camera.
Susanne Vis
I started watching the editing videos of Iwona and I wanted to learn even more, so I attended the masterclass in Belgium. From start to finish it was a magical experience! Nice to work with other enthusiastic photographers on a beautiful pure child's photo. Now working on putting everything I learned into practice. Thanks Iwona!
6 Chapters for 30 Breathtaking Child Portraits (Value $294)
1. Window to the Soul
Capture your child's dream-like wonder as they gaze through windows at the world.
Iwona's techniques use candid poses and mirror reflections to capture powerful emotions.
And she even uses fake frost and Photoshop'd candles to turn a summer scene into winter.
2. Outdoors During the Day
Evoke a romantic and classical feel by adjusting your composition and controlling light.
And learn the pro processing tips that Iwona uses to transform an ordinary scene into a work of art.
With the right techniques, you can take an ordinary location and turn it into the great outdoors.
3. Outdoors at Night
You'll pick up techniques to capture stunning night photos. And also learn how to make a daytime photo feel as if it was shot at night.
These crisp and cold images evoke new feelings of childlike mystery.
4. Wanderlust
It was a wanderlust image that earned Iwona the award of the most-viewed image of the year on Flickr in 2017.
She has perfected the art of capturing a child's imagination in a single image.
Use Iwona's techniques to improve the stories in your childhood portraits.
5. Focusing On Light
Capture dreamy scenes with candles, bulbs, fairy lights, and flashlights…
Each new light source presents a new opportunity to capture a story.
And Iwona walks you through how to get the most out of every situation.
6. Special Moments
Whether your child is close to a sibling, a pet, or their favorite toy… it's a bond you'll want to capture to remember forever.
Iwona shows you how to style, light, capture, and process these unique scenes.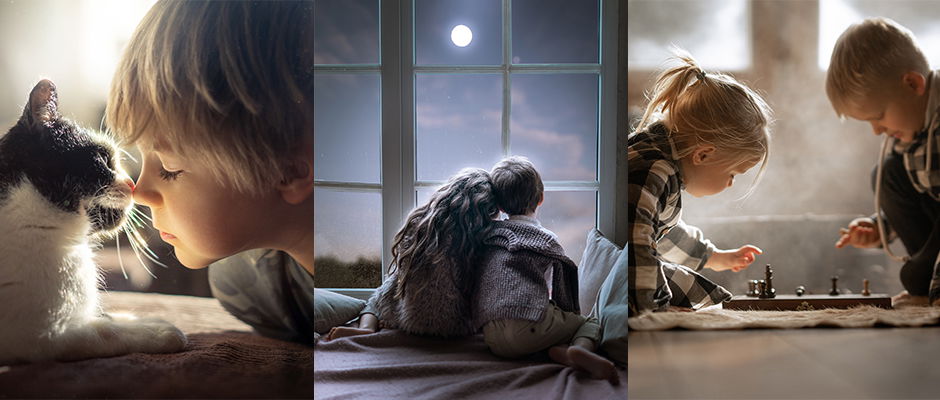 New Bonus: Beautiful Birthdays (Value $99)
Birthdays are one of the most exciting times of the year for a child.
There's friends, presents, cake…
But to get great shots, you have to know a handful of techniques.
From posed group photos to candid portraits… from opening presents to making a wish… this bonus covers it all!
Be ready to capture the most important moments with Iwona's practical advice.
Bonus #1: 'Watch Me Edit' Video (Value $99)
Would you like to transform your photography with powerful processing?
Check out the before and after below.
With a few simple tweaks, Iwona was able to go from ordinary to extraordinary.
In this video, Iwona shows you how to merge three photos seamlessly.
The knowledge is transferrable, so you'll be able to consistently create stunning composites.
Bonus #2: The Photoshop Overlay Bundle (Value $99)
One of the best ways to change the look and feel of your scene is to add Photoshop overlays.
Included in this bundle are frost and rain overlays. Iwona uses them to transform her scenes from summer to winter.
Plus, she's even including a full guide to show you how to create your own in Photoshop too.
So you can achieve a transformation like this with only a few clicks of a button…
Here's The Amazing Deal We've Put Together
We've created an ebook on child photography that works for any parent.
And to make the method as easy as possible, the ebook contains projects that you can recreate at home.
The value in this offer even exceeds what you get from one of Iwona's $700.00 workshops.
Click on the "Add To Cart" button below to get instant access, 100% Risk-Free…
Get Instant Access to:
"Dreamy Childhood Portraits"
Yes, I want it! I want access to this ebook right now!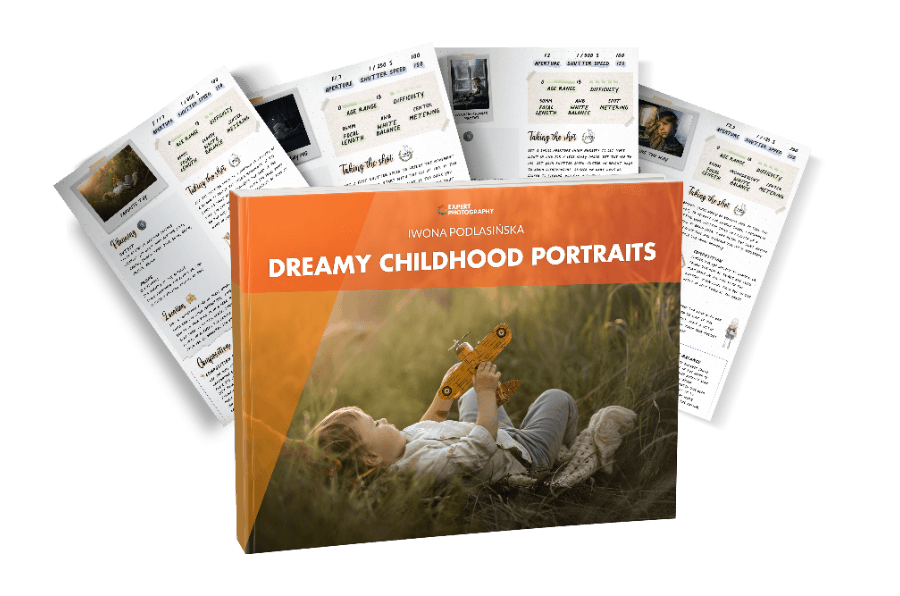 Sale Price:
Add to Cart
But There's A Catch (Please Read This Carefully)
When we release a new product, we always discount the price for the first 500 people. But it's 500 people only.
For that reason, time is very much "Of the Essence"… I can't stress the time-sensitiveness of this offer enough.
Not only will the 500 ebooks go quickly, but at that point, the $750.00 discount will expire. And I'm taking the bonuses away too.
Why? The reduced price is to celebrate the launch of the new eBook. The value of the eBook is far higher. It doesn't make long-term sense to sell it for such a low price.
And even at this rock-bottom price, you're still entitled to…
I stand behind every product we offer. And having planned and commissioned this ebook, I'm happy to put the ExpertPhotography name on it.
So I'm putting my money where my mouth is with these two guarantees:
Guarantee #1: If you don't think Dreamy Childhood Portraits is the best $39 you've spent on learning child photography… send me an email. I'll provide you with a full refund.
Guarantee #2: If you DO what's recommended, and your results aren't great, I'll refund double your money. All I ask is that you give it an honest effort. How's that for fair?
And these guarantees are good for 90 days after purchase!
Get Instant Access to:
"Dreamy Childhood Portraits"
Yes, I want it! I want access to this ebook right now!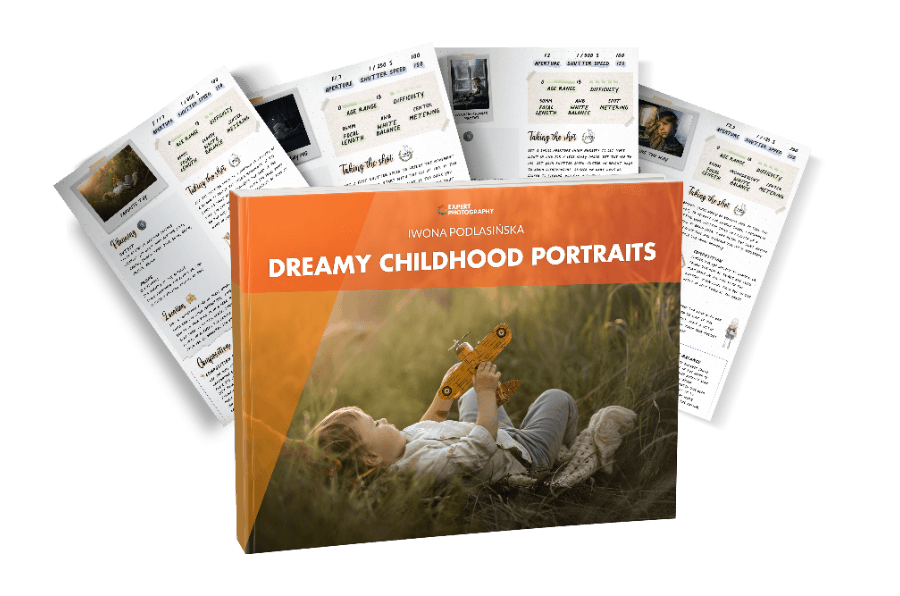 Sale Price:
Add to Cart
They Grow Up So Fast… Don't Miss Out!
It's too late for me to take these photos of my younger sister.
And while it's regrettable that while I won't get to relive those precious moments… you have a chance to do things differently.
Iwona created the ebook under this brief:
"Show us how to capture beautiful photos of children with tips that any parent could follow."
If you follow her advice, you can avoid missing out on capturing precious memories. And fill photo albums with beautiful images.
So it's decision time: You can either continue taking photos like you always did… Or you can take Iwona's advice and rapidly improve the photos of your children.
This simple $39 eBook is the only thing standing between you and the stunning photos you see on this page.
Iwona's methods have worked for other people like you, and it's 200% guaranteed so you have nothing to lose.
It's a no-brainer.
Click the orange Add-To-Cart button below to get started now…
Get Instant Access to:
"Dreamy Childhood Portraits"
Yes, I want it! I want access to this ebook right now!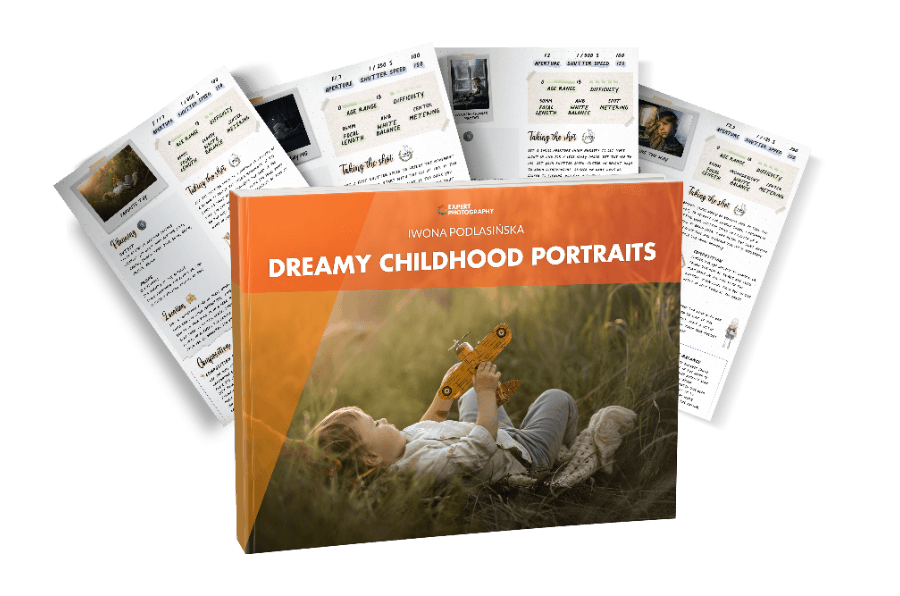 Sale Price:
Add to Cart
Yours Truly,
Josh Dunlop
Founder, Expert Photography
P.S. – You're getting everything you need to get started with child photography. AND you're getting Beautiful Birthdays, The 'Watch Me Edit' Video, and The Overlay Bundle for FREE. But remember – 500 is the magic number.
Get Instant Access to:
"Dreamy Childhood Portraits"
Yes, I want it! I want access to this ebook right now!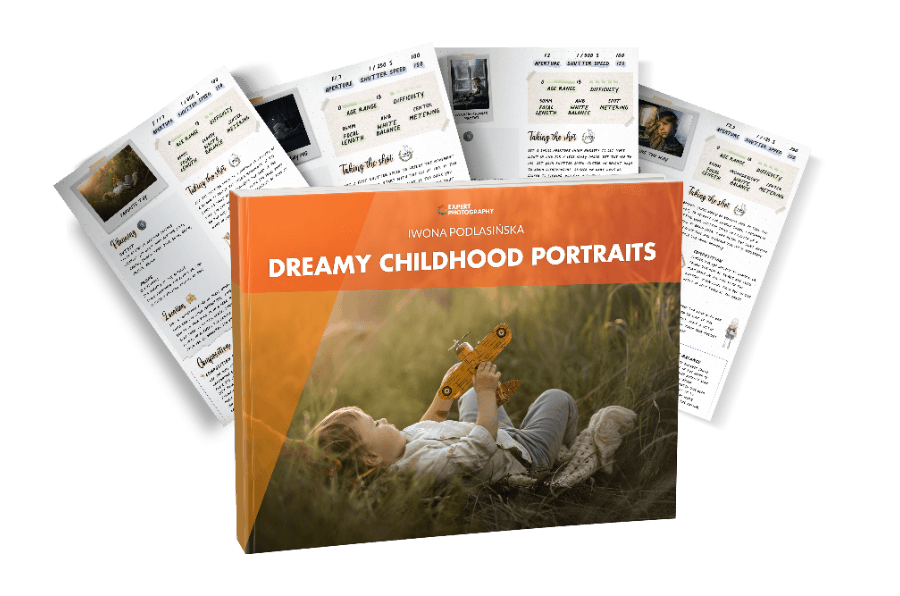 Sale Price:
Add to Cart
FAQ's
Who is ExpertPhotography?
ExpertPhotography was founded in 2011 by Joshua Dunlop.
Since then ExpertPhotography has grown into the world's largest photography education website with a variety of online courses, ebooks, cheat sheets, presets, and more.
Everything we do here is to make the process of learning photography easier, so you can experience the same joy we do.
We've taught photography to 140,000+ very happy and satisfied students over the past 11 years.
Photography has changed our lives, and we hope we can help it to change yours too.
How long does it take to capture each image?
Each image takes between 15 minutes and one hour to capture, and you can continue to experiment for hours with the same concept if you wish.
Do I have to hire a studio to take these photos?
No, you can capture all of these photos at home, in your garden, or in your local area.
What is the target age range for these images?
Iwona captures the dream-like wonder of children aged between one and thirteen. She does not cover newborn photography as that requires entirely different techniques.
How much experience with photography do I need to have to get started?
It's helpful to understand how exposure works, but aside from that, everything you need to know is covered in the ebook.
What additional gear do I need?
All you need is your camera (or a phone with a good camera). Iwona shoots mainly with three lenses: 135mm, 85mm, 50mm. But an entry-level DSLR and kit lens would work too. You don't even need a tripod.
How much post-processing do I need to do?
Iwona does rely on Lightroom to transform the look and feel of her images, but she walks you through exactly what you need to do to achieve the same results.
Occasionally she will also use Photoshop, but this is less common, and still explained in detail.
Will you send me a physical copy of this ebook to my address?
No, this is a downloadable file only. That means we can keep it up to date and offer immediate delivery.
How long is the ebook?
352 pages. But you don't need to read it all at once, or even in order. Simply pick an image that interests you, and read the Scrapbook Note to get started.
What's your refund policy?
You can get a full refund within 90 days of your purchase – no questions asked.