Attention: Creative Photographers, Food Lovers, Still Life Artists...
Create Stunning Flat Lay Photos from Your Kitchen Table
(15 Projects You Can Try Today)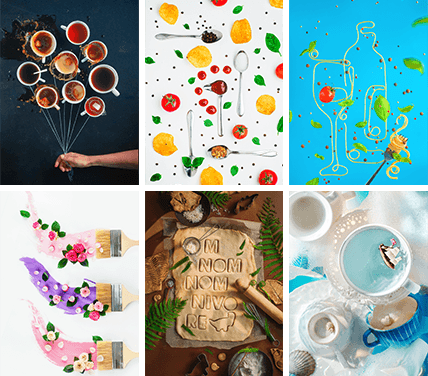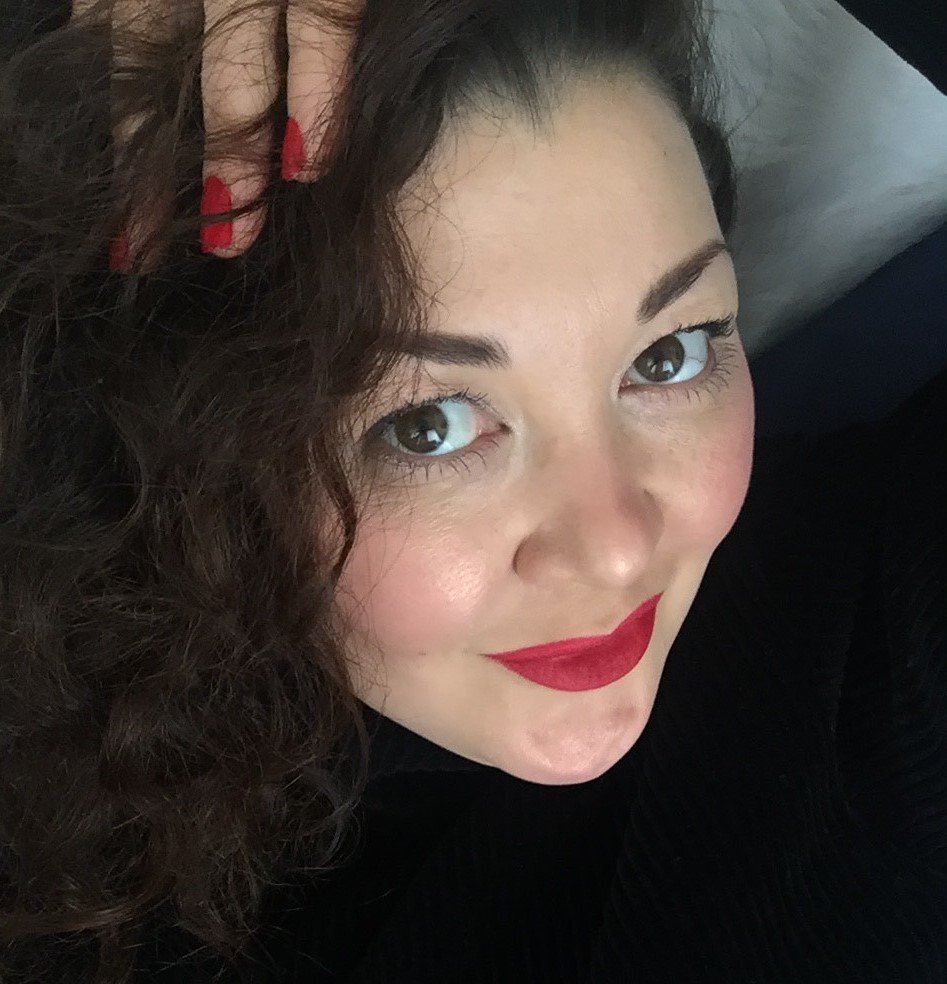 Elle Chiossone
The first time I saw @dinabelenko's work I exclaimed "WOW! how did she do that! " that's exactly what I would like to hear about my photos too. And now, thanks to Dina, I hear the same about my work! It's incredible! Thanks a lot!
Elle Chiossone,
Instagram
@ellechiossone
99% Positive reviews

907 students

15 Flat Lay Projects (across 280 pages)

15 Printable Cheat Sheets

3 FREE bonuses

Online & at your own pace

Downloadable onto any device

Language: English

Level: Beginner
My mother always told me "don't play with your food!", but she never knew how much fun it could be…
When you're a child, an orange slice can be a crescent moon. A donut can be a planet.
But as you get older, you lose some of your imagination.
It's hard to picture a galaxy on your plate when you're no longer pushing peas around it.
I always thought that I'd lost most of my child-like wonder for good…
…Until last year, when I had a call with Dina Belenko (our best-selling author).
She informed me that she had been developing her flat lay photography during the lockdown.
And when I asked for some tips, she kindly shared the notes from one of her most popular photos.
Using her ideas, my kitchen table, and a few items from around my house…
I made my own equally captivating and creative version of her photo.
And the best part? It started to reignite my youthful imagination…
Meet Dina Belenko, The Uncrowned Queen of Creative Photography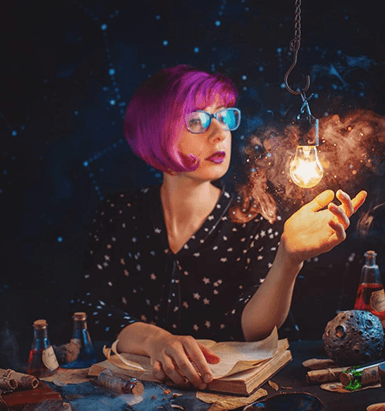 @dinabelenko
49.4K Followers
Dina plays tic-tac-toes with splashing coffee mugs… creates edible wine bottles from spaghetti… makes shooting stars out of muffins – and entire galaxies of sweets…
Her style relies on creating unique compositions while telling magical stories with everyday objects.
All from the comfort of her home.
Dina is no stranger to teaching her style of creative photography either – she's taught 13,000+ students at ExpertPhotography over the past year.
Her images have attracted over 50,000 followers on Instagram and her role as a brand ambassador for 500px with over 110,000 followers.
She's the Gordon Ramsey of creative photography, so it only made sense to join forces and create this…
Introducing: "Flat Lay Photo Fever"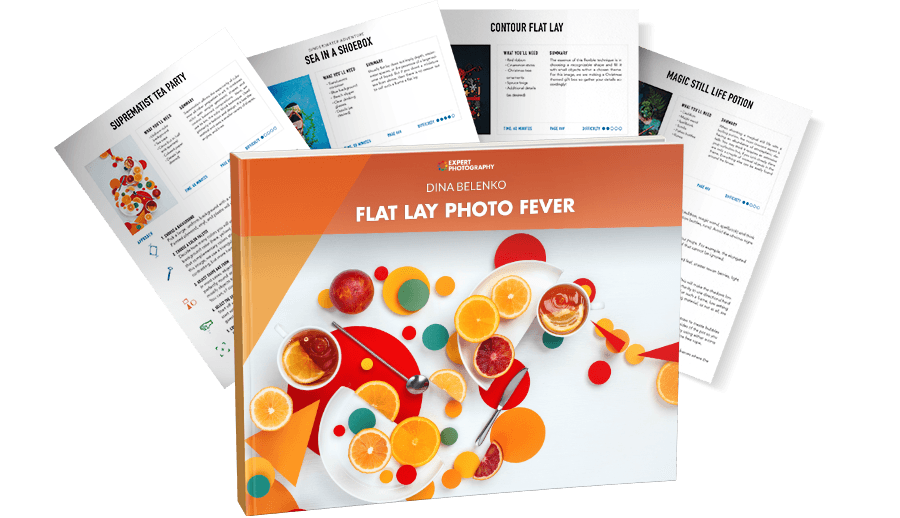 This 280-page ebook shows you how to capture 15 fascinating flat lay photos that spark your imagination and tell a story.
Her techniques include balance, levitation, steam, fire, splashes, typography, and more…
All you need is your camera, a tripod, and a kitchen table – no complicated lighting or equipment.
Dina will walk you through every step with our ebook and printable cheat sheets (more on those below).
The only limit is your imagination, and with 15 of Dina's best ideas to choose from… you'll never be short of inspiration.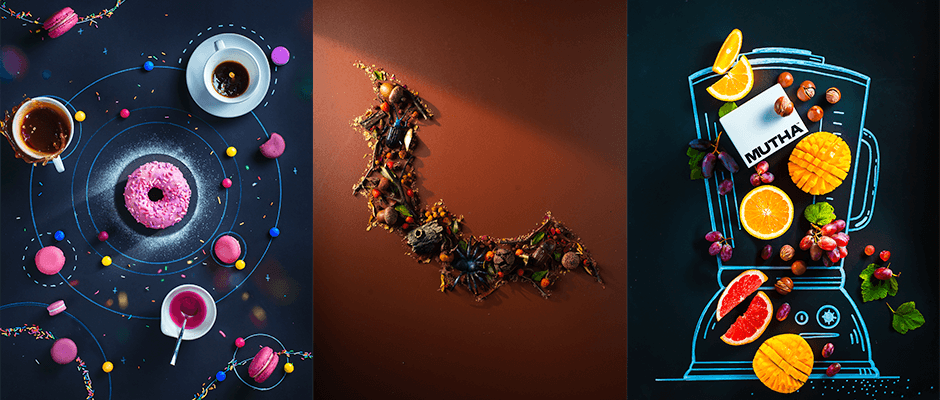 With "Flat Lay Photo Fever", you'll soon discover:
Detailed instructions on creating your own unique scenes on a kitchen table
How to train your imagination to unlock your inner creativity
Fun ways to take photos from home, with basic gear and very minimal editing
Interesting ways to add character and mood to ordinary objects
How to use only one dimension to create cool and creative images
The case studies average 10 pages in length, with dozens of detailed step-by-step photos.
You don't have to read the book all at once, or even in order.
Pick the image you want to create, read through the tutorial, print off the cheat sheet, and start shooting!
Here's what Dina has to say about her exciting new product:
15 Printable Cheat Sheets for Flat Lay Photography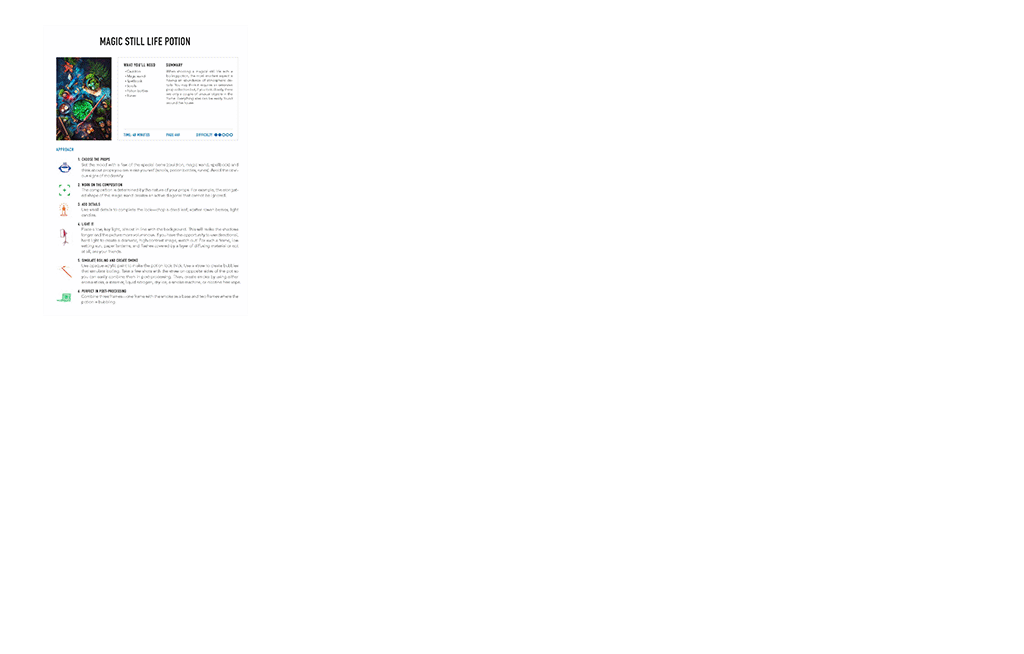 We wanted to make the process of capturing these photos as easy as possible.
So Dina worked with our design team to create cheat sheets for each image.
The process is simple:
Read through the detailed instructions in the ebook
Print the single page cheat sheet
Collect items around your home for the creative project
Follow the simple steps on the sheet
Compose and shoot!
The cheat sheets detail how to create each image. This includes the props you'll need, composition and light.
Each project takes 15-90 minutes to complete.
Whether you're an enthusiastic beginner photographer or a still life lover… these cheat sheets make the process easy.
Allergic to Photoshop or Complicated Setups?
It's a common misconception that images like Dina's rely on Photoshop.
The truth is, outside of merging two images or adjusting colors… Photoshop is rarely needed.
And the same can be said for setting up the shot.
Dina creates magical scenes by experimenting with everyday items at her kitchen table.
Focus your time on fun and whimsical experimentation… not anxious post-processing or setting up expensive gear.
If you can follow simple instructions, capturing mesmerizing results will be as easy as clicking a button.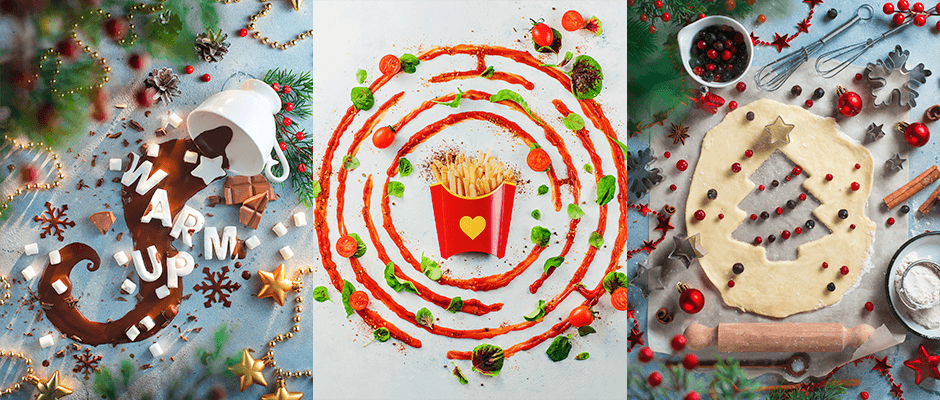 Magazine-Quality Flat Lays with At-Home Setups
Picture this.
You have a new way to take impressive photos without leaving your home.
Coming up with ideas isn't a problem, because you have 15 cheat sheets to take inspiration from.
You place your camera on a tripod and gather some props and accessories.
There's no need to worry about composition – the cheat sheet guides you through each step. 
You start experimenting with different props and their arrangement.
Within minutes, you have your own unique flat lay image that is eye-catching and engaging.
And after some further experimentation, your photos are mind-blowing… unique… extraordinary…
All you need is a simple setup and some household items to produce stunning results like these…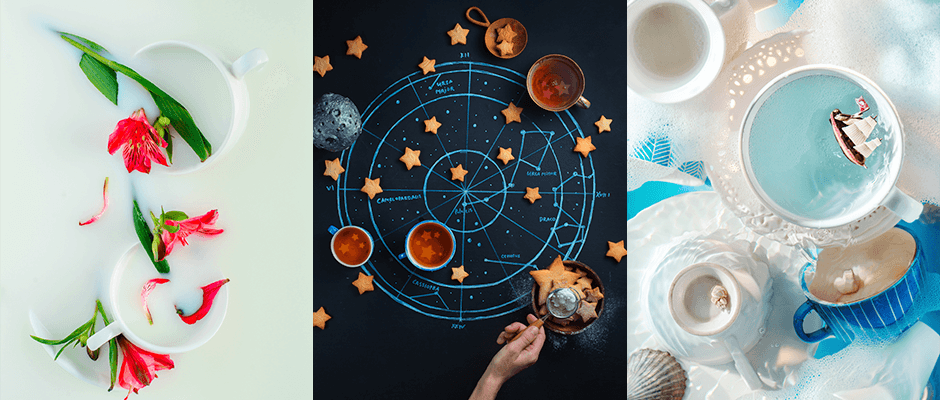 Dina is no stranger to teaching her style of photography. Her 'Creative Photography Cookbook' has over 13,000 students. Here's what a few of them have to say…
"It has helped me out with fresh ideas for creativity..."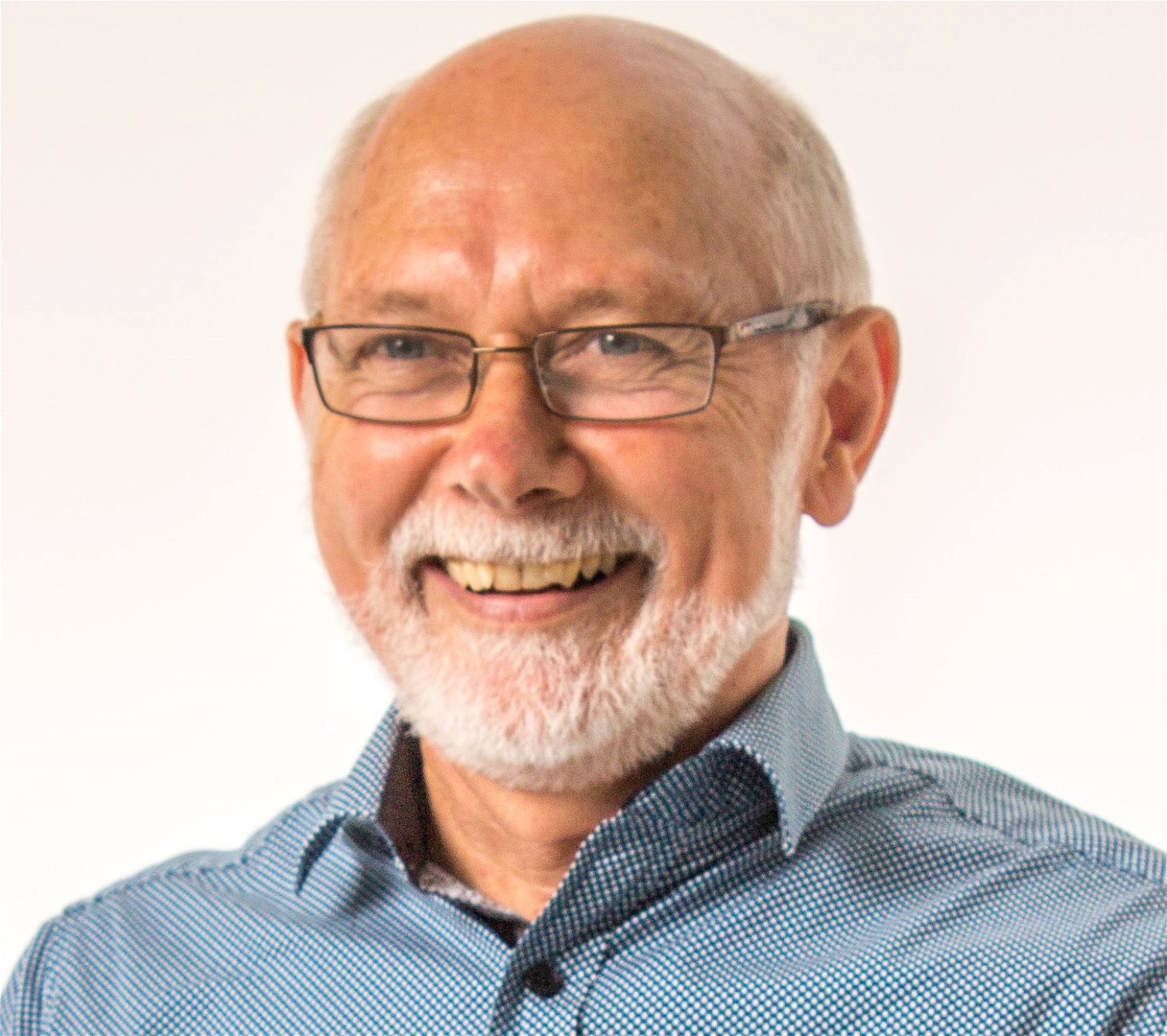 Keith Metcalf
The creativity exercise at the beginning of the book really helped me to think outside the box for ideas. I also love the detailed cheat sheets explaining how the images were created.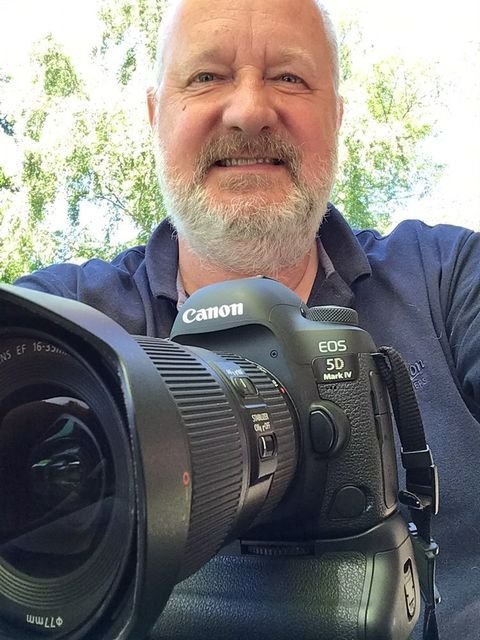 Glen Gorman
What a brilliant concept of mixing basic photographic techniques with the unlimited creativity of your own imagination!
The cookbook itself provided all the inspiration you need to create your own beautiful, weird and wonderful images in an easy to follow format with clear imagery and instruction. If you're looking for inspiration to fuel your own creativity in a fun and simple way, then this is the book for you, so stop thinking about it and just do it…you will be pleased with the results.
Glen Gorman,
Instagram
@conceptualphotosinfrance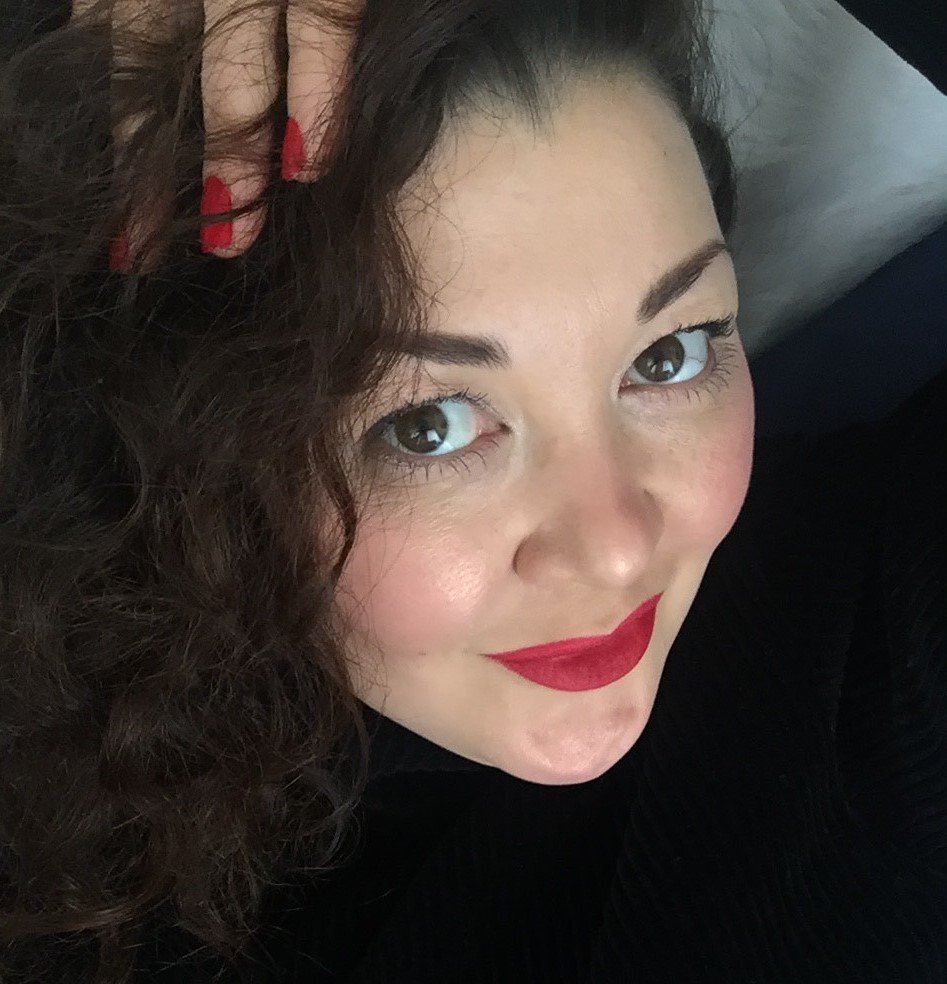 Elle Chiossone
The first time I saw @dinabelenko's work I exclaimed "WOW! how did she do that! " that's exactly what I would like to hear about my photos too. And now, thanks to Dina, I hear the same about my work! It's incredible! Thanks a lot!
Elle Chiossone,
Instagram
@ellechiossone
@galigrafiya

Olga Ibragimova

Ruth Robinson

@prezoom_nl

Mansi Mona

Kelly Howel

Katerina Lee

Katerina Lee

@galigrafiya

Elle Chiossone

Eva Creel

Katerina Lee

Kelly Howel

@galigrafiya
5 Steps to Fun Flat Lay Compositions (Value $598)
Step 1. Equipment & Camera Settings
Your camera gear is not important.
You don't need expensive lenses or lighting – even a smartphone works.
Dina touches on all of this and more, including natural and artificial light.
With a little bit of technical know-how and some basic gear, you can capture stunning flat lay photos like these…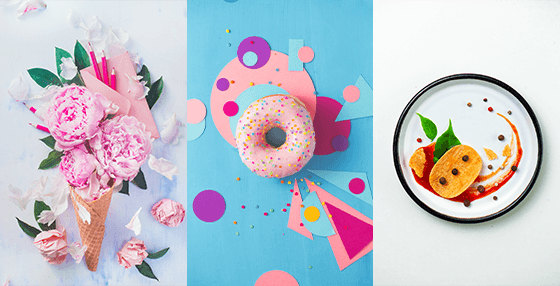 Step 2. Train Your Imagination
Stephen King once wrote, "Amateurs sit and wait for inspiration, the rest of us just get up and go to work."
Lucky for you, Dina has been to work. She's collected dozens of practical exercises to awaken inner creativity.
You can borrow her ideas and make them your own with 7 additional warm-up exercises.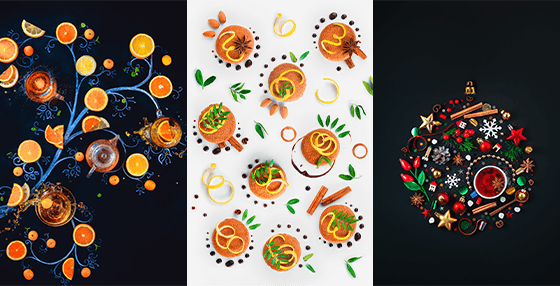 Step 3. Props & Styling
Although Dina's style of flat lay photography may require a couple of props, they are all objects you can find around your house.
When the plot & scene is carefully planned and styled, you can tell fun and imaginative stories with your images…
A summer getaway, the Alchemist's feast, or music at your fingertips…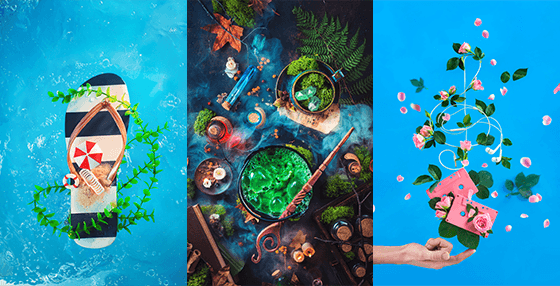 Step 4. Composition & Color
You have an idea… you've collected your props… now it's time to bring it all together.
Dina will show you how to pick colors that work well together and suit the theme of the image…
Then adjust your composition (the arrangement) to create a striking balance that supports the story.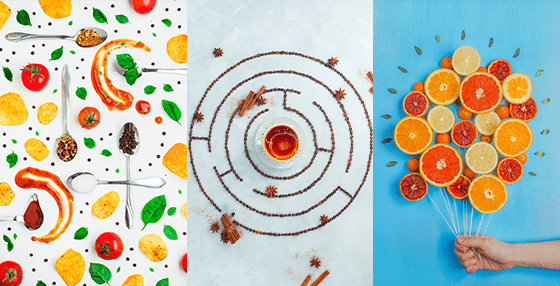 Step 5. Editing to Perfection
One of the greatest things about Dina's photos is that they require little to no post-processing.
Most often, you need to learn how to do only a few things… adjust colors, remove small details, or merge two photos together.
These are only small adjustments and Dina will walk you through each and every step.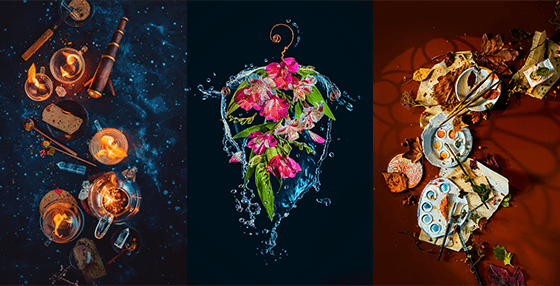 What else is included?
1
New Bonus Added: Silhouette Cutouts (Value $99)
Dina uses unique paper cutouts – placed in front of the light – to create interesting silhouettes on her flat lays.
This helps to transform the look and feel of the location, transporting you to churches… forests… castles… and more…
Download this bonus, print and cut them out, and hold them up to a tabletop lamp to get the same results.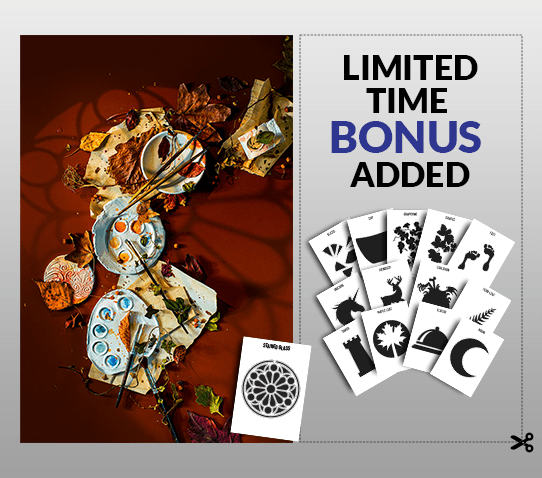 2
Bonus #1: 15 Unique Twists (Value $99)
Using 'Flat Lay Photo Fever', you can recreate Dina's photos for yourself.
This is great fun and very rewarding. But Dina also wanted to show you how to add your own unique twists to them.
So she kindly wrote an additional guide for each image, with simple ways to transform their look and feel.
You'll soon see there are limitless ways to make these images your own!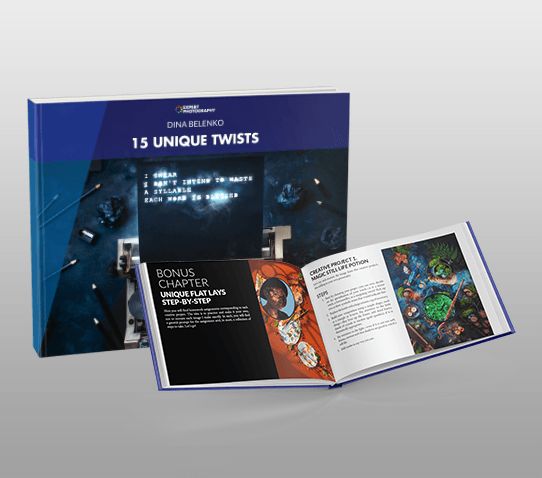 3
Bonus #2: Creative Bingo (Value $49)
Dina has an unlimited source of creative inspiration, and she is sharing it with every student in this bonus…
It's a simple Bingo-like game that challenges you to come up with your own unique ideas.
Projects… prompts… objects… composition… scene… plot… light…
Each square represents a challenge to be taken under certain conditions. Complete 5 projects in a straight line (including diagonals) and enjoy your Bingo! moment.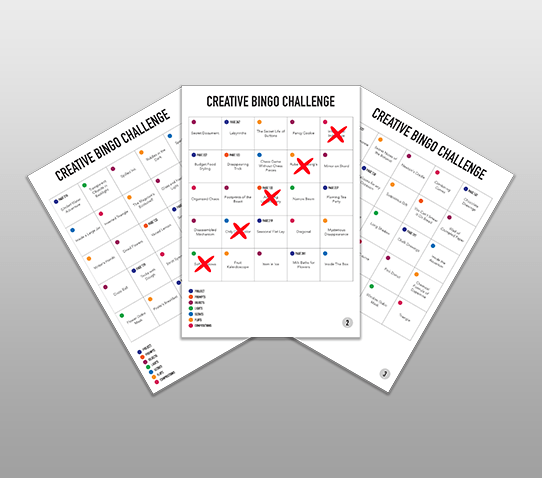 I stand behind every product we offer. And having planned and commissioned this ebook, I'm happy to put the ExpertPhotography name on it.
So I'm putting my money where my mouth is with these two guarantees:
Guarantee #1: If you don't think "Flat Lay Photo Fever" is the best $39 you've spent on your flat lay photography… send me an email. I'll provide you with a full refund.
Guarantee #2: If you DO what's recommended, and your results aren't great, I'll refund double your money. All I ask is that you give it an honest effort. How's that for fair?
And these guarantees are good for 90 days after purchase!
Here's The Amazing Deal We've Put Together
We've created an ebook on flat lay photography that works for every photographer.
And to make the method as easy as possible, the ebook contains projects that can be achieved from your kitchen table.
And although the value far exceeds $397.00, we're offering this for a very limited introductory price.
Flat Lay Photo Fever
Create Stunning Flat Lays from Your Kitchen Table
The entire ebook contains:
Value
Mastering Flat Lay Photography (6 Chapters)

$99.00

Flat Lays For All Occasions (15 Creative Projects)

$99.00

15 Printable Cheat Sheets

$49.00
Plus... you're also getting these powerful bonuses:
Silhouette Cutouts

$99.00

15 Unique Twists

$99.00

Creative Bingo

$49.00
A combined value of $894.00
But you won't be paying $894.00 today. You won't even be paying $199.00. Or even half of that.
It's Yours Today For Just $39

 

🔥
But hurry! Only the first 500 copies are discounted!
Save an amazing $855.00 before the countdown ends.
Get Instant Access to:
"Flat Lay Photo Fever"
Yes, I want it! I want access to this ebook right now!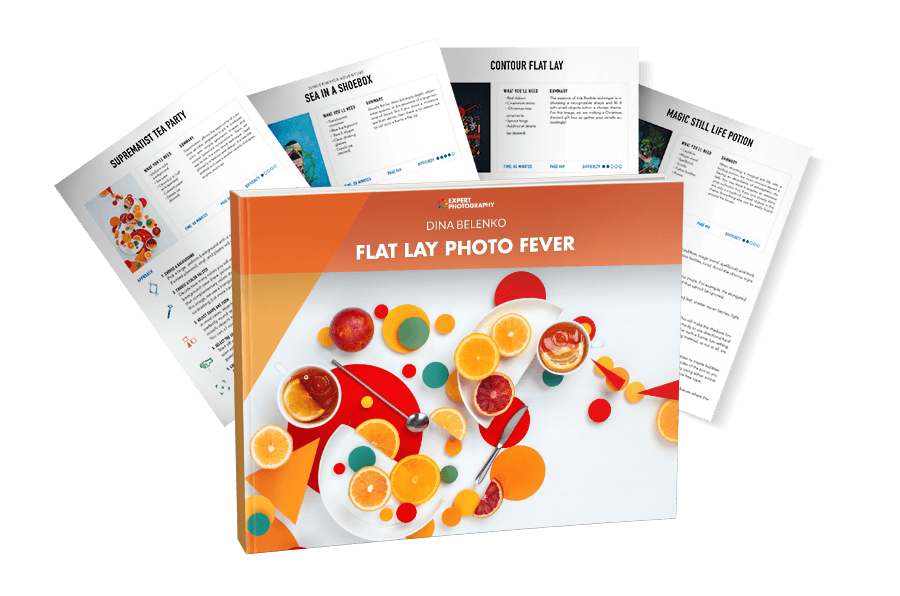 Sale Price:
Your payment is 100% secure.
But There's A Catch (Please Read This Carefully)
When we release a new product, we always discount the price for the first 500 people. But it's 500 people only.
For that reason, time is very much "Of the Essence"… I can't stress the time-sensitiveness of this offer enough.
Not only will the 500 ebooks go quickly, but at that point, the $855.00 discount will expire. And I'm taking the bonuses away too.
Why? The reduced price is to celebrate the launch of the new ebook. The value of the ebook is far higher. It doesn't make long-term sense to sell it for such a low price.
Reignite Your Youthful Imagination… This is How!
Dina wrote this ebook under my brief:
"Show us how to capture creative flat lays with tips that any photography enthusiast could follow."
If you follow her advice, you can avoid mistakes, save time and find success sooner.
So it's decision time: You are free to continue taking the same photos as you're currently taking, or…
You can access your child-like wonder and take creative flat-lay photos from home.
This simple $39 ebook is the only thing standing between you and the stunning photos you see throughout this page.
Dina's methods have worked for other people like you, and it's 200% guaranteed so you have nothing to lose.
It's a no-brainer.
Yours Truly,
Josh Dunlop
Founder, Expert Photography
P.S. – You're getting everything you need to get started with flat lay photography, AND you're getting the Cutout Silhouettes, the 15 Unique Twists and the Creative Bingo for FREE. But remember – 500 is the magic number.
Questions?
Who is ExpertPhotography?
ExpertPhotography was founded in 2011 by Joshua Dunlop.
Since then ExpertPhotography has grown into the world's largest photography education website with a variety of online courses, ebooks, cheat sheets, presets, and more.
Everything we do here is to make the process of learning photography easier, so you can experience the same joy we do.
We've taught photography to 140,000+ very happy and satisfied students over the past 11 years.
Photography has changed our lives, and we hope we can help it to change yours too.
How long is the ebook?
280 pages. But you don't need to read it all at once, or even in order. Simply pick an image that interests you, and read the Cheat Sheet to get started.
How long does it take to capture each image?
Each image takes between 15 minutes and 1.5 hours to capture, and you can continue to experiment for hours with the same concept if you wish.
What additional gear do I need?
All you need is your camera (or a phone with a good camera) and a tripod. Most of the other equipment you'll likely find around the house.
How much experience with photography do I need to have to get started?
It's helpful to understand how exposure works, but aside from that, everything you need to know is covered in the ebook.
How much post-processing do I need to do?
Most of Dina's projects can be completed without post-processing. And where she does rely on Photoshop, she walks you through exactly what you need to do to achieve the same results.
Will you send me a physical copy of this ebook to my address?
No, this is a downloadable file only. That means we can keep it up to date and offer immediate delivery.
What's your refund policy?
You can get a full refund within 90 days of your purchase – no questions asked.